Trinh Duc Thien, 51, of A Vao Commune – a remote and underprivileged area in DaKrong District, the central province of Quang Tri – is taking care of medicinal plants in a garden he grows to treat local residents.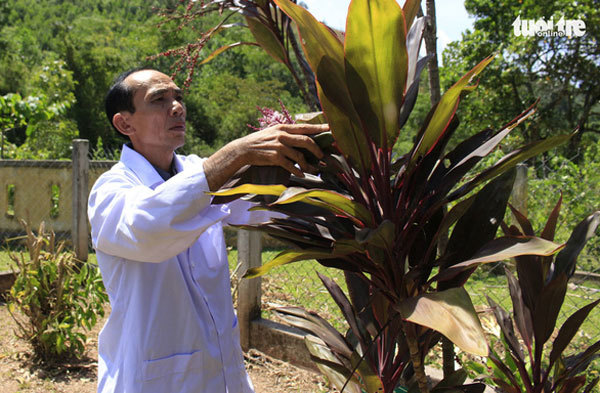 Trinh Duc Thien, 51, takes care of medicinal plants in a garden in A Vao Commune's Health Centre. — Photo tuoitre.vn
Thien, after graduating from Hue University of Medicine and Pharmacy, has spent over two decades working in the commune's health centre, treating thousands people, delivering hundreds of children, and mobilising resources to upgrade the health centre from a temporary wooden shack to a 2-storey building with 14 rooms.
The doctor still remembers his first day at the centre. He had to walk about 8km on foot, crossing a stream to reach the health centre. It was a dirt road instead of cement because the commune was in a remote area of the province.
"Moreover, I had no work to do for the first two weeks," he told Tuổi trẻ (Youth) online newspaper.
Local residents were not used to going to the health centre for examination or treatment when they felt unwell, he said.
"They prayed with the hope their disease would be cured," he said.
Pregnant women, near their due date, would go to the banks of the stream, giving birth by themselves in a tent instead of going to the centre to be helped by medical staff, he added.
Residents thought that women giving birth at home would bring misfortune to the family.
Changing thinking
"It took me five years to convince them," Thien said.
He persuaded relatives of women near their due date to allow him to visit the tent and take care of the women and deliver the children.
He then persuaded the heads of the villages to tell people about the importance of medicine.
He even set up a shack in the health centre so that women could come here to give birth with his medical support.
"All of these methods helped them access medical services," he said.
At first, his efforts were rejected. But Thien never gave up. He continued persuading them for five years until the residents saw the good results of modern medicine.
After the birth of healthy children, local residents gradually changed their mind – the women came to the centre when they were near their due date. Sick people came to the centre for treatment.
Ho Thi Nghi, a 42-year-old woman, said she gave birth to her third child with medical support of Thien and staff at the centre. The birth was very smooth.
"I felt comfortable. It's much better than giving birth in a tent by the stream," she said.
She wished Thien had arrived in the commune sooner.
Vice chairwoman of the People's Committee of the district Ho Thi Kim Cuc said Thien had dedicated himself to improving the health of local residents for years.
He called upon all local residents to go to the health centre for examination and treatment and even drove 20-30km for house calls.
Helping children
Dozens of children in the commune have dropped out of school as their homes are too far. For some, it takes half a day to get to class, walking on dirt roads.
Thien wants to help the children continue their studies.
A few years ago, he planned to allow them to stay at his house during the school year. He discussed this with his wife.
Thien's wife, Hoang Thi Thuong, 37, said she and Thien had two children. She knew taking care of a child was not simple.
"At first, I was very worried about the plan," she said.
But the love and kindness of her husband to the local children changed her mind.
"We have a vegetable garden, we have fish in a nearby stream," she said.
So they could take care of the children.
The couple often drive their motorbike to nearby townships in the province to collect old clothes from charity groups to give to children in July every year – two months before the new school year begins.
"As long as the children have warm clothes when the winter comes, the difficulties we experience is worth it," Thien said.
VNS