Doctors at Thong Nhat Hospital in HCM City have removed a retroperitoneal tumour weighing 2.4kg protruding from the abdomen of a 40-year-old man from Tan Binh District.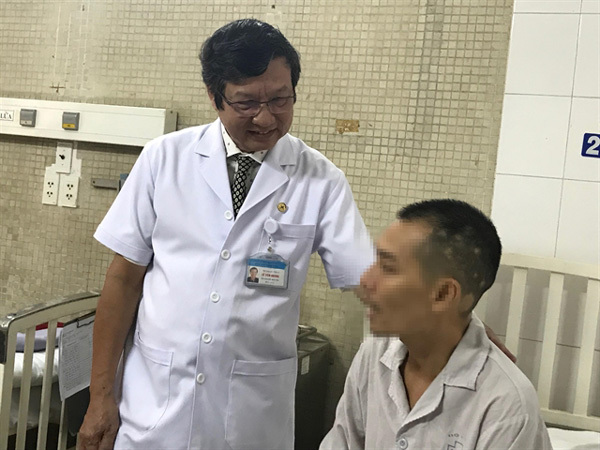 Dr Le Van Quang, former deputy director of Thong Nhat Hospital in HCM City, examines a patient who had a tumour weighing 2.4 kilogrammes removed.
The tumour was in an area behind the peritoneum, the lining of the abdominal space covering the abdominal organs, major blood vessels, kidneys, pancreas and bladder.
The tumour, which had three lobes measuring 14.5 centimetres each, blocked other organs including the spleen, Dr Le Van Quang, the hospital's former deputy director, said on September 23.
"Fortunately, the tumour's lobes had not entered the main artery and vein which supplies blood for the gut, so we decided to remove the entire tumour during the surgery," Quang said.
"Such large retroperitoneal tumours are rare, and this is the first time we have removed an entire tumour at the hospital," he said.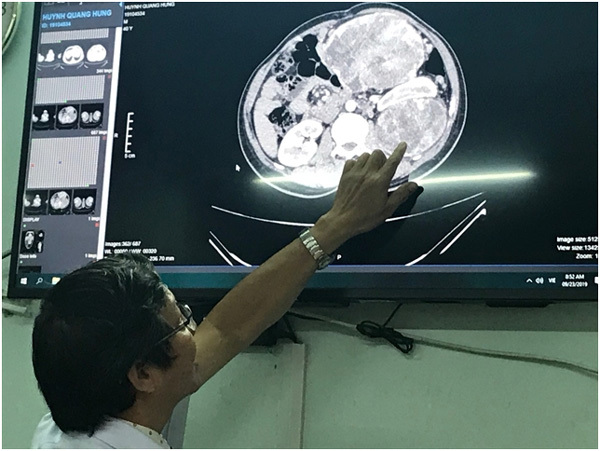 A CT image shows a tumour with three lobes measuring 14.5 centimetres each, blocking other organs. — VNS Photos Gia Loc
Besides the tumour, the man's spleen and a part of his pancreas were removed, he said.
The results of tests that will determine if the tumour was a sarcoma, a rare cancer, will be available next week. Such tumours in the abdomen often develop slowly.
Fifteen years ago, a tumour from the man's adrenal gland was removed. Hospital doctors at the time were concerned that the tumour could reoccur. If the adrenal tumour reoccurs, it will be difficult to remove the entire gland, Quang said.
The man, who is recovering at the hospital 11 days after surgery, said the large tumour had been discovered via a periodic health examination at a health facility in the city. He then went to Thong Nhat Hospital for surgery.
Dr Quang said the man could be discharged from the hospital in around two weeks. VNS