Nine people have been taken into quarantine and put under observation in Da Nang after being detected with a slight fever. The nine were among a total of 8,300 tested at the international airport and seaports.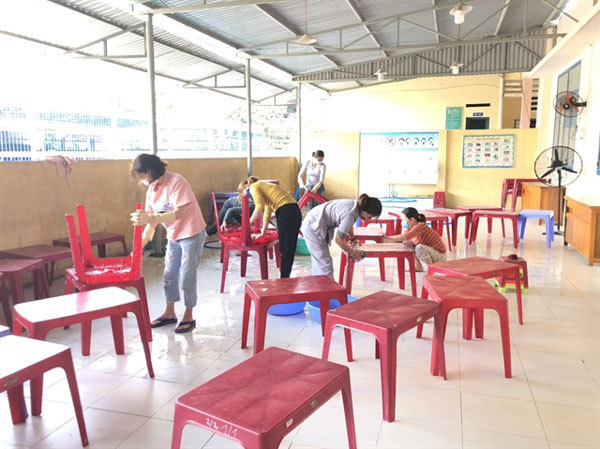 Teachers clean tables and chairs at a primary school in Da Nang. 171 education centres and schools were cleaned and sterilised before students return to school on February 3. VNS Photo Dinh Ha
Three healthy people were released from the hospital on Saturday (February 1).
The city's health department said on Sunday (February 2) that 22 patients (one Chinese and 21 Vietnamese) were now under observation for coronavirus at the city's hospitals.
It said the patients are in a stable condition, with some suffering slight fevers as of Sunday morning.
The department said the city had checked 73 people between January 26 and February 2, of which 51 (including 24 foreigners) have been released, and 32 samples of those tested negative for coronavirus.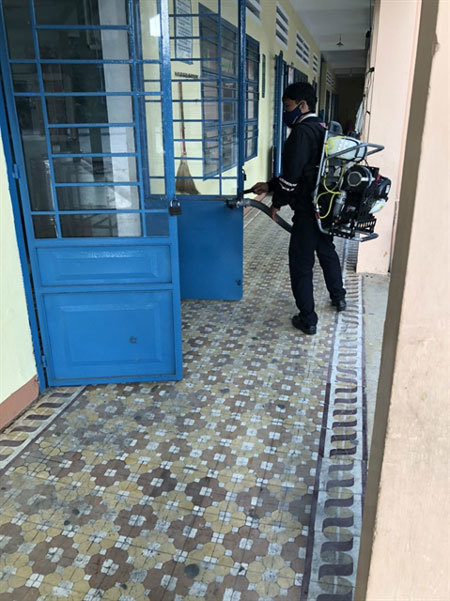 A worker disinfects classrooms in the central city Da Nang. — VNS Photo

On Saturday (February 1), all 171 educational centres and schools in the city were cleaned and sterilised, while 600 principals were educated on prevention measures.
Da Nang-based Dong A College decided to allow students to stay at home and study online until February 9.
At the Furama Da Nang resort, staff and visitors started using preventive measures. Face masks were available for guests, while hot lemongrass tea was offered for all tourists.
In Quang Nam, the provincial general hospital was monitoring a 19-year-old student who developed a fever a few days after returning from Wuhan, China.
Director of the provincial health department, Nguyen Van Hai said the patient (a female student) was quarantined at the hospital as soon as she got a fever at home in Tien Phuoc District.
He said the student, who was studying at Huazhong (Central China) Normal University (CCNU), travelled from Wuhan to Nanning, China (on January 19), and then to Hanoi, before taking a flight to Da Nang and a bus to Tam Ky City in Quang Nam Province on January 20.
She then took a bus to her home in Tien Phuoc District.
She got a fever several days after trips between Tam Ky and Tien Phuoc during Tet (Lunar New Year), and was taken to an isolated unit at the provincial hospital.
Her medical sample, which was sent for testing at Nha Trang Pasteur Institute, tested negative for coronavirus after the official results were released on February 2.
Director of the provincial health department, Hai said she still has a slight fever.
The provincial university also allowed students to remain at home until February 9.
In Quang Ngai Province, two health centres in Binh Son District were prepared as isolated areas for treatment of coronavirus patients.
The province asked the managing boards of Dung Quat Economic Zone, industrial zones and Vietnam-Singapore Industrial Park (VSIP) to temporarily stop employing labourers from coronavirus-affected area in China.
According to Dung Quat Economic Zone, Hoa Phat Dung Quat Steel company employs 308 Chinese labourers, of which 60 are still in China after their vacation for the Lunar New Year.
Body temperature machines were set up at the entrance of Hoa Phat Dung Quat steel company. The company employs 10,000 labourers.
Thua Thien-Hue Province people's committee asked the local health department to prepare two million face masks for free delivery at heath centres and other destinations.
The provincial department of Culture and Sports also banned all festivals from February 1.
No cases of coronavirus have been found in the central region. — VNS

A drill on preventing the acute respiratory disease casued by a new coronavirus (nCoV) was held at the Hue Central Hospital in Phong Dien district, the central province of Thua Thien-Hue on February 2.

Departments of education and training, schools, English centres and hotels are taking preventive measures against the spread of the deadly coronavirus which has killed 213 in China as of Friday.

Vietnam is stepping measures to prevent the spread of the deadly coronavirus, which has killed more than 130 people since it was first detected in China's Wuhan Province.