Land subsidence due to groundwater exploitation in Hanoi, as well as many other localities, has become a concern for the management of water resources.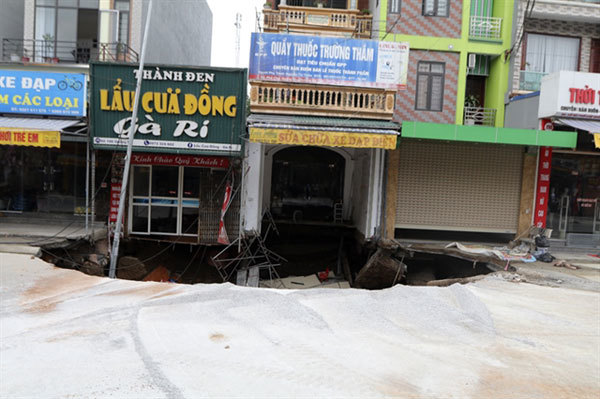 A sinkhole caused by drilling a well in Quang Bi Commune of Hanoi's Chuong My District. 
Earlier this month, a household in Quang Bi Commune of Hanoi's Chuong My District drilled a well, causing a large sinkhole to open and forcing households to evacuate. Cracks were also reported along nearby roads.
According to experts, the drilling of underground wells was one of the main causes behind recent sinkholes.
Geologist Hoang Van Hoan, head of Water Resources Investigation under the National Water Resource Planning Centre, said this was not the first time such incidents have occurred in Hanoi.
Sinkholes have been reported in many communes, including Dong Quang, Ngoc My and Yen Son in Quoc Oai District, as well as An Tien, Hung Tien, Hop Thanh, Le Thanh, Xuy Xa, Hop Tien, An My and Phuc Lam in My Duc District, said Hoan.
Subsidence mostly happened when people drilled wells to reach underground water, he said.
According to the geologist, the locations with significant subsidence are in the west and southwest of Hanoi, where there is a lot of limestone and underground karst structures.
"This was the dissolution of rock, creating cave systems with different shapes and sizes, distributed at different depths under the ground," said Hoan.
"Through land subsidence in the west and southwest areas of Hanoi, the causes and mechanisms were quite diverse," he said
"Apart from natural factors and underground karst structures, direct human impacts such as drilling wells would create vibrations, especially when penetrating the rock layer above the caves, combined with water loss in the borehole which causes the cave ceiling to collapse," said the geologist.
This phenomenon also occurred in ​​Quang Bi Commune.
According to Nguyen Ha Linh, the leader of the drill group, when drilling to a depth of 42m, there was a hard rock layer, because the drill used was not a rock drill, so after 20 minutes, it was impossible to drill through and the ground started to cave in.
A number of people in many of Hanoi's suburban areas do not have access to clean water supply.
In the past, people mainly used rain water and wells. Gradually, the groundwater became exhausted and polluted, and water from wells could not be used, so many households turned to drilling deeper to exploit groundwater.
In Chuong My District, there are over 6,000 households, equally to 8 per cent of the district's population using clean water.
There were many families who have not registered for a water supply, but have paid to drill underground wells because the cost was cheaper than installing pipes and monthly water bills.
The widespread exploitation of underground water caused quality degradation, ground subsidence and impacts underground karst caves, leading to dangerous sinkholes. 
Tightening management
According to experts, in order to solve the problem, temporary and long-term measures were needed.
In the case of drilling wells, it was necessary to apply appropriate science and technology, with the consultation of professionals.
According to preliminary statistics, the total volume of groundwater exploitation nationwide was estimated at 10.5 million cu.m per day, with Hanoi reaching 1.8 million cu.m.
According to the Department of Water Resources Management, the law stipulates that organisations and individuals involved in underground drilling and exploitation must ensure requirements on capacity specified by the Government in Decree No 60/2017/ND-CP, providing for a number of conditions for business investment in the field of natural resources and environment.
Organisations and individuals drilling must have a license issued by a competent authority and must fulfil their obligations in accordance with the law on water resources, including the need to comply with technical procedures and regulations on the protection of underground water.  
VNS

Improved water management can help Vietnam tackle the threat of climate change, Belgium Ambassador to Vietnam Paul Jansen said at a workshop held in Hanoi on May 28.