The People's Court in Binh Thanh District in HCM City yesterday sentenced Nguyen Thi Nga to three and a half years in prison for "violating regulations on road safety" which resulted in a car crash that killed one woman and injured six men.
 BMW owner arrested for fatal car crash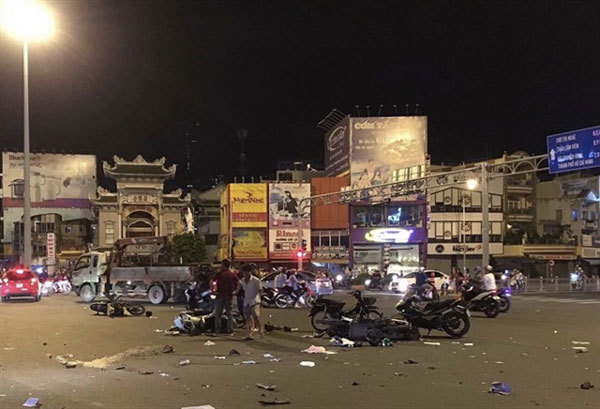 The accident scene where the driver of a car ran a red light and crashed into several vehicles, killing one woman and injuring six men, two of them seriously, in HCM City in October last year. Photo tuoitre.vn
Nga, 47, of District 12, drove into several vehicles after running a red light last year.
Nga was charged with driving a car without a driver's licence and driving while under the influence of alcohol, leaving one woman dead and two men seriously injured.
She was indicted on charges under Clause 2, Article 260 of the Criminal Code in the first instance trial in Binh Thanh District.
The woman told the court that the strap of her high heel got stuck on the gas pedal, causing her to panic and slam on the accelerator instead of the brake.
Police later initiated legal proceedings against Nga and arrested her on October 24.
She was released on bail this year and was required not to leave her place of residence.
The court last month issued an arrest warrant for the defendant as preparation for the first-instance trial.
On the night of October 21 last year, Nga was driving on Dien Bien Phu Street towards the Sai Gon Bridge.
Approaching the Hang Xanh roundabout at around 11:15pm, witnesses said the car sped up and hit five motorbikes which were waiting at a red light. She stopped only after the car crashed into a taxi.
A motorcyclist, 38-year-old Nguyen Thi Kim Phung, was struck by the luxury BMW vehicle and dragged dozens of metres along the road. She was killed instantly, police said.
Six men were also injured in the collision, two of whom suffered traumatic brain injuries.
A breathalyser test showed that Nga's blood alcohol level was 0.94mg per litre. Vietnamese law requires that car drivers must have a zero alcohol concentration.
Nga admitted to the police that she drank alcohol at a party at a restaurant on Pasteur Street in District 3.
VNS