People are rushing to take their driving tests following news that the tests will become stricter and more expensive from May.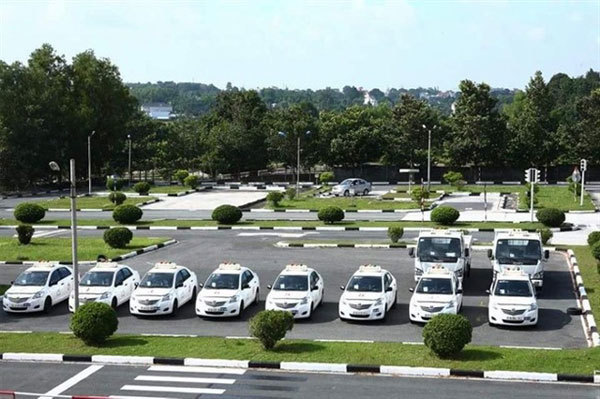 A driving test centre in Hanoi. Photo plo.vn
The cost of a training could rise to VND20-30 million (US$860-1,300) from VNĐ4-6 million ($170-260), according to Kinh Tế & Đô Thị (Economy and City) newspaper.
Last year, the Ministry of Transport issued Circular 38/2019/TT – BGTVT supplementing regulations on driving lessons and tests.
One of new regulations will include lessons being monitored by surveillance cameras.
Learner drivers will only be able to take their tests once they have completed the course.
The new regulations aim at improving road safety and increasing transparency.
Many people wanted to get their driving licences before the new regulations were applied, the paper said.
"My parents asked me to register for a driving course because they were worried the fees would increase and the test would be harder," said Lam The Anh, a 20-year-old student in Hanoi.
Hoang Minh Phuong, 42, residing in Hanoi's Thanh Xuan District said: "Many training centres have increased their fees by VND2-3 million per course but I accepted that because I was afraid they would continue to increase this year."
Luong Duyen Thong, director the Vehicle and Driver Department of the Directorate for Roads of Vietnam said there were no exact figures for new learner drivers available.
"However, transport departments have reported that the number of people registering for driving tests had increased compared to the same period last year," Thong said.
Nghiem Xuan Dinh, from LOD Driving Training and Testing Centre in Hanoi, said fees for lessons and tests might be increased by 20-50 per cent.
"Misinformation about price hikes has only benefited the training centres," Dinh said.
"Besides, stricter training would be better for drivers," he said.
More people registering for lessons in such a short time would negatively affect the training quality, he added.
Training fee increase is reasonable
Under new regulations, training centres will have to install surveillance cameras and simulation equipment to help trainees hone their skills, which will cost them money.
For owners, increasing lesson fees is logical.
Tran Van Toan, chairman of Dong Do Driving Training and Test Centre in Bac Ninh Province, said: "Previously, many centres published rates of VND3 or 4 million ($130-170) per course to attract learners."
"But during the courses, they collected extra money from the students," Toan said.
"I think VND10-15 million per course is suitable given staff costs and increasing petrol prices," he said.
Nguyen Van Dung from Lac Hong Driving Training Centre in Hanoi said that trainees had to share the financial burden with the centres.
Due to competition, most centres dropped fees for a course to VND5 or 6 million ($210-260) to attract learners. Then they cut off the theory classes and shortened lessons to reduce expenses," Dung said.
"In my opinion, the rate should be VND25 million ($1,100) per course," Dung suggested.
Thong said the fees had been applied as per Circular No 72/2011/TTLT-BTC-BGTVT issued by the Ministry of Finance and Ministry of Transport.
Currently, training centres are allowed to set their own fees which must be reported to management agencies, said Thong.
Any adjustments would be considered a violation if training centres did not inform both trainees and management agencies, he added. VNS

The Ministry of Transport will add several regulations regarding the use of IT in managing and supervising automobile driver training centres to improve training quality.