Those driving under the influence (DUI) should be stripped of their driving licenses permanently, according a proposal presented at the first-quarter review conference on traffic safety on April 24.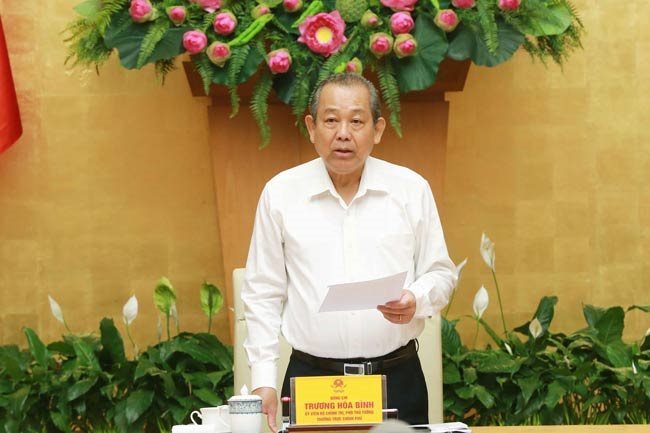 Deputy Prime Minister Truong Hoa Binh speaks at the conference, throwing his weight behind the proposal to revoke the driving licenses of DUI drivers who cause traffic accidents - PHOTO: VGP
Speaking at the conference, HCMC Vice Chairman Tran Vinh Tuyen proposed the Government quickly amend Government Decree 46 on administrative penalties for road and railway traffic offenses and supplement a regulation to permanently revoke the driving licenses of DUI drivers who cause traffic accidents.
Besides this, it is necessary to determine the liability of transport enterprises that assign drivers to work knowing they are using drugs.
Sharing this opinion, Nguyen Van Khuoc, vice chairman of Vinh Phuc Province, proposed supplementing penalties depending on the severity of traffic violations.
Lieutenant General Vu Do Anh Dung, director of the Directorate for Roads of Vietnam, said that the Ministry of Public Security has issued a 2019 plan to handle traffic violations that involve the abuse of alcohol and drugs.
Dung, however, noted that the handling of these violations was difficult and complicated, explaining that the country has seen public employees, State staff and other workers driving under the influence of beer or liquor.
The first step is to call on citizens to comply with traffic rules, Dung said, adding that penalizing offenders is the last step.
Speaking at the conference, Deputy Prime Minister Truong Hoa Binh said that reviewing the legal corridor had been prioritized.
Binh threw his weight behind the leaders' suggestions and proposed adding these proposed regulations to relevant decree amendments to curb fatal accidents caused by alcohol and drug-impaired drivers.
Apart from this, Binh pointed out that the first quarter of 2019 had seen a decline in the number of accidents, fatalities and injuries. However, severe traffic incidents are still being recorded.
The number of drivers caught abusing drugs or alcohol while driving remains low, Binh stressed, adding that the liability of owners of vehicles and transport enterprises is still limited. As such, it is necessary to impose strict penalties on offenders and the relevant individuals and organizations, apart from confiscating their vehicles and revoking the driving licenses of the drivers.
Statistics from the National Traffic Safety Committee show that the country saw more than 4,000 traffic accidents, killing 1,900 people and injuring 3,140 others, in the first quarter.
These figures were reportedly lower than those recorded over the first three months of 2018. However, as many as seven serious incidents occurred in the period, claiming 29 lives and injuring 29 others. SGT