All airlines must ensure passengers complete electronic health declarations before boarding flights at all airports nationwide as requested by the Civil Aviation Authority of Vietnam (CAAV).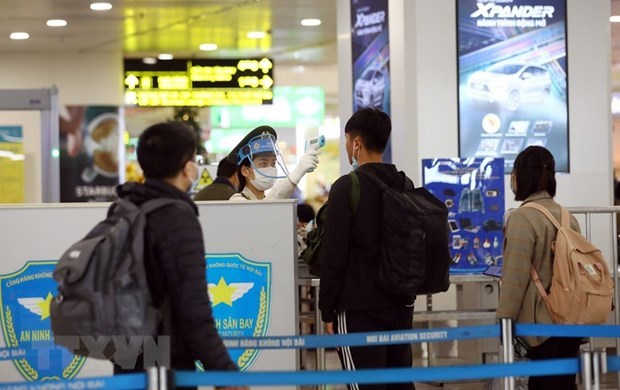 Security staff check the body temperature of passengers at the security screening checkpoint at Nội Bài International Airport. 
The request is among efforts to tackle the COVID-19 pandemic and airlines who fail to do so will face legal responsibility.
In a circular sent to airlines, CAAV director Dinh Viet Thang said all airport passengers have to fill in the e-health declaration at the security screening checkpoint before boarding a flight.
The health declaration can be completed on the website http://tokhaiyte.vn.
Airlines are responsible for notifying and instructing passengers to make e-health declarations. The need to fill in an e-health declaration before flights must be notified on the speakers' system or notification screens at airports.
Any passenger refusing to complete the form should not be allowed to board the flight.
Airport authorities will explain the procedure to all foreign airlines at airports.
For online or kiosk check-in services, Thắng asked airlines to add the e-health declaration to the procedures.
Airlines should arrange personnel at the kiosk check-in counters at terminals to assist and guide passengers in the e-health declaration. — VNS
Airline passengers who fail to wear face masks during flights face fines up to VND3 million ($130), under a new order by the Civil Aviation Authority of Vietnam.