Many educationists questioned the methods used for quality accreditation and ranking of universities at a recent conference held in HCM City.
Accreditation shows problems about tertiary education quality
Vietnamese universities set international standards for training programs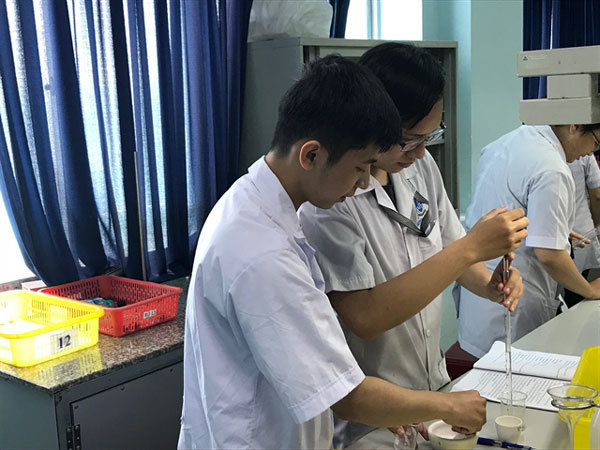 Students at a lab at a university in HCM City. VNS Photo Gia Loc
Assoc Prof Le Quang Minh, former vice president of the Việt Nam National University- HCM City, said he was surprised at the ranks assigned to universities by the centres for quality accreditation.
Half of the universities and colleges in the country have received quality accreditation, with more than 96 per cent apparently meeting the required standards, which was not "ok," he said.
"Many universities' actual quality standards do not match the accreditation results, but students choose to study in them based on these results and discover the quality is not what they had expected," he said.
This would cause the public to lose trust in the centres, he warned.
The results should be verified and the National Assembly should set up a centre to appraise the quality accreditation centres, he said.
Ngo Van Thuyen of the HCM City University of Technology and Education said many universities were choosing quality accreditation centres that are lenient in their assessment to obtain certification and good results.
Assoc Prof Dr Nguyen Hoi Nghia, former vice president of the Viet Nam National University-HCM City, said only one quality accreditation centre has found universities failing to meet standards, and none of the other four.
Many others expressed doubts about the independence of the quality accreditation centres.
Dr Vu Thi Phuong Anh, director of quality assurance at Nguyen Hoang educational group, said the quality accreditation centres were managed by the Ministry of Education and Training and lacked independence, affecting the process and efficiency of accreditation.
Besides, "no university is shut down if it fails to meet the standards," she added.
Assoc Prof Dr Huynh Van Son, vice rector of the HCM City University of Technology and Education, said universities should understand that the real objective of the accreditation was to help them improve their quality.
Universities should not carry out their self-assessment – before the accreditation process – as a mere formality, he said.
Dr Pham Thi Ly of the Viet Nam National University-HCM City said the quality accreditation was regarded merely as a marketing tool by many universities.
Universities should publicise all the information about their accreditation for people to compare it with their actual quality, she added.
The event was organised by the National Assembly's Committee for Culture, Education, Youth, Adolescents and Children.
VNS