Vo Van Mum is an elderly man living in a temporary house on the banks of the Co Co River in southern Tien Giang Province.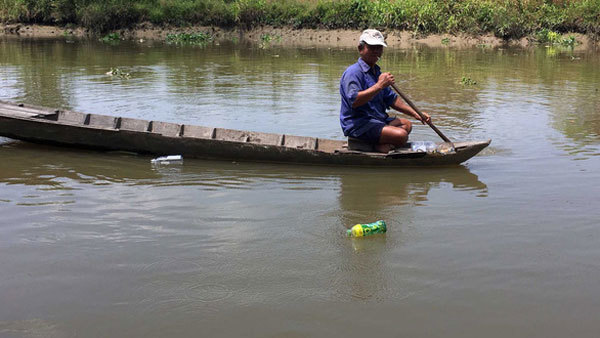 Vo Van Mum, 72, collects empty plastic bottles and pieces of wood on the bank of the Co Co River in southern Tien Giang Province to earn a living and get money to help needy people. - Photo tuoitre.vn
He earns a living from picking up plastic bottles and pieces of wood from the river to sell as scrap.
However, his shortage of food and money never really bothers him, and he even tries to help people who are less fortunate.
"I'm good at asking for charity. I don't have money, but I can ask for help for those who need it," he told Tuổi Trẻ (Youth) newspaper.
A new house, a new hope
Pham Thanh Minh started building a house in mid-March. The house will cost VND40 million (US$1,725), which he is paying for thanks to support from relatives and donors.
Minh said he had never thought about having his own house until Mum and a villager called for help and found him a donation of VND20 million ($862).
"He encouraged me a lot," Minh said.
Minh said he planted vegetables and fruit trees to earn a living, but it was only enough to pay for hospital fees for his treatment.
Mum said he decided to do something to help after he visited Minh's old house.
"The house was about to collapse. The roof was leaky and most of concrete pillars were destroyed," he said.
Mum said most of donors were villagers, including farmers, traders and builders. They trust him thanks to what he has done and what he will do.
Last year, Mum managed to source 500 kilogrammes of rice for poor people and find financial help to pay for the funeral of one of his neighbours.
Mum has been doing charity work for years. Eleven years ago, he travelled to the To and Cam mountains more than 100 kilometres away to pick up herbal leaves for a local health clinic for poor people.
When the health clinic moved to another commune, Mum joined the team to build a bridge for free. He travelled with the team to many provinces such as An Giang, Vinh Long, Ben Tre and Can Tho, working from early morning until 5pm to build bridges for poverty-stricken villagers.
Mum said poor people only had money to make concrete pillars to build houses. He asked for iron rods left unused after the construction of a bridge and managed to secure 25 sets of concrete pillars – each containing six reinforced concrete pillars – to give to those in need.
Three months ago, Mum suffered a back injury was forced to stop his work for treatment.
Keep doing charity
Although he's stuck at home, Mum still saves a small sum of money to buy rice for poor people in the village.
Mum said he used to earn some hundreds of thousands of dong from collecting wood and plastic bottles from the river.
In a corner of his small house, some of the wood is ready to be sold.
Explaining why he keeps helping people, Mum said he was a poor man himself, but had received a lot of support from both local authorities and people to raise his nine children.
Now they are all grown up and have stable jobs.
"I believe I need to do something to help people as a way of returning what I've received," he said.
Mum said he was lucky as he had the support of his wife.
Tran Nhut Khoa, chairman of My Loi B Commune's People's Committee, said the committee highly appreciated what Mum had done.
"Although living in poverty, Mum and his wife always try to help other people," he said.
VNS