Unilever Vietnam recently held an online workshop to raise public awareness of impacts of the Covid-19 pandemic on Vietnamese women and shared its women's empowerment ambition in the next 5 years.
Unilever Vietnam, in partnership with the United Nations Entity for Gender Equality and the Empowerment of Women (UN Women), Vietnam Women's Union, British Embassy, Standard Chartered Vietnam and Facebook, has launched an online workshop entitled "Step-up for women in economic recovery against COVID-19" to drive greater women's empowerment and assist women in economic recovery in the post-pandemic period.
Gender inequality and discrimination towards women and girls is still a major global issue. Given the COVID-19 pandemic's uproarious rise since the beginning of 2020, women worldwide have been severely impacted by its socio-economic causes.
According to World Economic Forum, in 2020, the pandemic caused efforts to close the global gender gap to increase by additionally 36 years.
In Vietnam, women have similarly undergone impacts of the Covid-19 pandemic, including income reduction, low access to financial resources and social services, physical and mental health decline, etc., all the while they have enlisted themselves to the frontline in fighting against the pandemic, assuming the positions of nurses, doctors, caregivers, supermarket staff and service-people, environmental workers, factory workers, mothers and sisters quietly taking care of their families.
Thus, Unilever Vietnam launched the online workshop "Step-up for women in economic recovery against COVID-19" in order to raise public awareness of the impacts caused by the pandemic on Vietnamese women and young girls, share their inspirational stories amid the pandemic.
Unilever Vietnam also takes the opportunity to inspire think-alike organizations and businesses to join hands in empowering women and girls across three key actions: Capacity building for women in business skills for economic development, expanding employment opportunities for women; increasing the financial access for women to help them start or restart their business, improve livelihoods and gain financial aids to overcome this challenging period; and improving women's access to digital platforms.
Countries around the world are moving from living in zero COVID-19 to living safely with it and Vietnam is no exception. In this critical moment, cooperation among businesses, socio-economic organizations to empower women is an indispensable motivation in the journey towards economic recovery, improvement of living qualities for women while enhancing their roles and positions in families and the society.
Fostering gender equity through women's empowerment is a sustainable development commitment that Unilever Vietnam has pioneered to focus on for the past several years and will continue to promote in the years to come.
"We set an ambitious commitment to empowering one million women to achieve more in life in Vietnam in the next 5 years, through 3 pillars: Expanding economic opportunities for women; enhancing women's status at workplace and pursuit of professional career; and removing harmful stereotypes that are barriers to females' achievements", said Nguyen Thi Bich Van, Unilever Vietnam's Chairwoman on the company's specific focus and action plan in women's empowerment agenda.
To bring these 3 strategic pillars to life, Unilever Vietnam has been implementing specific action plan.
Firstly, in order to expand economic opportunities for women, Unilever Vietnam will inspire rural women with entrepreneurship mindset, and provide them with access to training and funding for women to set up their own businesses and improve their incomes.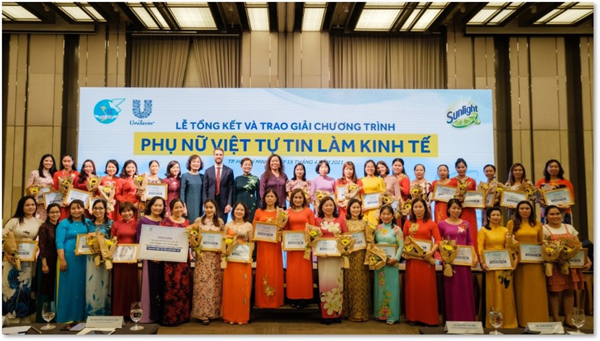 Unilever empowers women to confidently do business
Secondly, Unilever Vietnam supports to enhance women's status at workplace and pursuit of professional career through demonstrating role model on Women's Empowerment Principles, building gender-inclusive workplace, and building capacity for our partners, SMEs on gender equality and women's empowerment.
Thirdly, to remove harmful stereotypes that are barriers to females' achievements, Unilever Vietnam focuses on three actions: Improving self-esteem for girls, unleashing potential for girls to follow their dream and building new concept of positive beauty.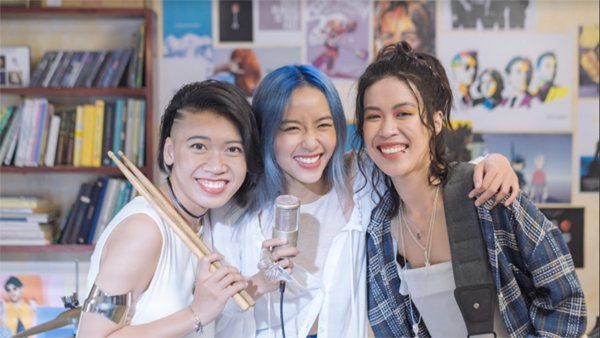 Unilever promotes positive beauty, which is equitable and inclusive, as well as sustainable for the planet
Not only do these efforts help Unilever Vietnam deliver the corporate commitment towards gender equity and positively contribute to the United Nations Development Program's (UNDP) Sustainable Development Goal 5 (SDG5), but they also give hands to implement other sustainable development goals including improving people's health and wellbeing, and raising living standards.
PV