Pham Van Nam and Dinh Thi Hong Linh are two ethnic minority teachers who were recently honoured as part of the 'Sharing with Teachers'.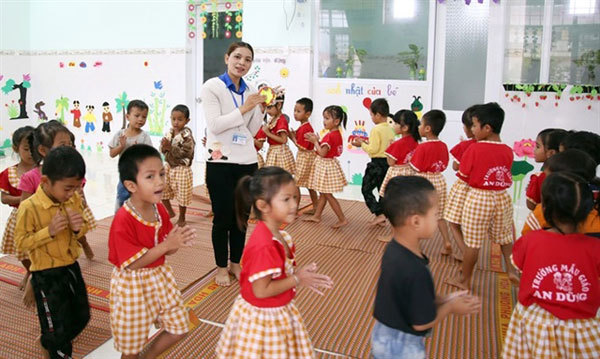 Dinh Thi Hong Linh finds happiness while teaching in her homeland. — Photo tienphong.vn
They have both overcome many difficulties to teach poor students in their homeland.
Teacher Dinh Thi Hong Linh, 27, is of the H'rê ethnicity.
She has worked at the An Dung Kindergarten for nearly seven years in her homeland - a poor commune of An Lao District, Binh Dinh Province. The people here are mostly H'rê.
Linh was born into a poor family of eight siblings and studied at the National College of Education in Hanoi. During her student days, she studied and worked a part-time job.
"Early education seemed easy, but gradually I realised it was extremely difficult. The work requires preschool teachers to appreciate children, love their jobs, be patient, restrained and have a high sense of responsibility," said Linh.
"I think of the children in my village who are filthy, just hanging around at home or following their parents working in the fields. I continue to try my best," she said.
Linh told Tiền Phong (Vanguard) newspaper that was the driving force for her to overcome difficulties to stick with teaching.
The terrain in Linh's homeland is winding and people live by the sides of rivers and mountains. Travel is difficult as there are rivers but no bridges. During the rainy season, students on the other side of the rivers can't go to school because there are no bridges. There are days when their parents cannot come home from work in time to pick up their children and Linh has to carry each child across the river to return home.
Besides teaching knowledge and skills, Linh also guides students to participate in extra competitions such as 'Active children with Aerobic' and 'Children love Vietnamese'. Many of her students have won prizes.
Linh is also secretary of the school's Youth Union and helps students and people in difficult circumstances in the village. 
Enthusiastic male teacher
Teacher Pham Van Nam, 39, an ethnic Muong man, started teaching at the Lung Cao Junior Secondary School, which later changed its name to Cao Son School, in Ba Thuoc District, Thanh Hoa Province.
The school is more than 20km from the town centre with a dusty road on dry days and muddy on rainy days. It is located at an altitude of nearly 1,000m above sea level.
This is the residence of the ethnic Thai group in an area with many difficulties in transportation, climate and lack of electricity.
"One autumn day in 2006, my two colleagues and I followed the road with vertical slopes to reach Cao Son School. We immediately saw two bamboo classrooms. I couldn't believe they were classrooms because they were made from some bamboo sticks put together on the wet ground," he said.
On the first day of class, Nam cried when he saw bare-footed students in torn clothes in the cold highlands.
"The clear eyes of the students at that time was probably the biggest motivation for me to have a strong attachment to this land, where life is somewhat wild and people are honest and hospitable," Nam said.
He said there were moments of heartbreak, especially when the afternoon fell and his students went home and his colleagues to their families. He craved children's voices, family meals and the city heat instead of the transquillity of the mountains and forests.
But he did not give up and strived to help people in a difficult area.
The annual programme 'Sharing with teachers' is organised by the Central Committee of Vietnam Youth Union in co-ordination with the Ministry of Education and Training, the Committee for Ethnic Minorities and other partners to honour teachers who are ethnic minorities and work in remote, border, island and areas with difficult socio-economic conditions.  VNS

Many students in Din Chin – one of the poorest, most remote communes in Muong Khuong District, consider teacher Lo Thi Lan a second mother thanks to her dedication.

At the foot of Ra Nhua Mountain in the central province of Quang Ngai's Son Tay District, there is a school which is as clean, green and beautiful as those in the delta.  

Female teachers in the northern mountainous province of Son La have overcome challenges and remained unwaveringly dedicated to teaching the region's knowledge-thirsty ethnic minority children.