Illegal parking lots are mushroomed in Hanoi Old Quarter at the weekend, charging people exorbitant fees.
It is common to see unlicensed parking plots on many streets in Hanoi Old Quarter every weekend, including Hoan Kiem pedestrian street and Hang Bac, Cau Go and Dinh Liet streets.
Staff at these parking areas often rush on the street to invite motorbike drivers.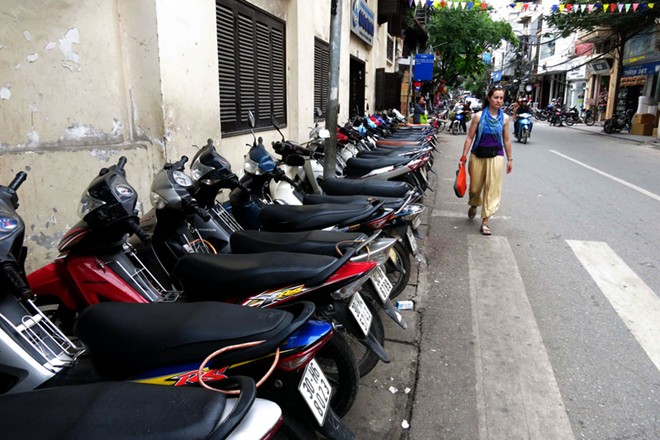 An Illegal parking lot in Hanoi Old Quarter. Photo by Vietnamnet

"I and some of my friends often come to Hoan Kiem Lake area for relaxation at weekend. Despite high parking fees, we have to accept because we have no other choice," said a young woman.
The parking fees for each motorbike around Hoan Kiem pedestrian street ranges between VND20,000-30,000 or even up to VND50,000 compared to the regulated tickets of VND3,000-5,000.
Nguyen Huyen Thuong who lives in Hanoi Old Quarter said that she comes back home from work and she is often offered parking lots. Sometimes, she is stopped by parking lot staff who invite to use their service.
Illegally parking areas encroach pavements which are for pedestrians. In many cases, at peak time, vehicles are left on the road.
Natalia Joiles from the US said that she was quite shocked at Hanoi traffic, particularly pavement violations by unlicensed parking areas.
Currently, around 57 parking lots have been licensed around Hoan Kiem pedestrianised area, meeting just 10% of demand.
Under the city's regulations, at least 1.5 metres of pavements has to be used for pedestrians. However, in reality, many pavements are occupied by illegal parking lots and business services.
Earlier in 2017, Hanoi's authorities launched a campaign to deal with pavement encroachment. Pavements in many main streets in Hanoi, including those in the Old Quarter, have been marked by lines to zone the areas for pedestrians, but the situation has barely improved.
VOV/Dtinews

The central city of Da Nang has allocated 14 streets where parking is only allowed on odd or even dates in the downtown districts of Hai Chau, Thanh Khe, Cam Le, Son Tra and Ngu Hanh Son.

The HCM City Department of Transport has informed the Dong Duong Group that the underground parking lot project awarded to it has been cancelled.

Many residents near Cau Giay Park have opposed a decision to allow construction of a large car park.