Vietnam is running a high risk of enduring a future COVID-19 outbreak in the community due to the continued global spread of the virus, especially in neighbouring countries, said Tran Dac Phu, senior advisor to the Ministry of Health.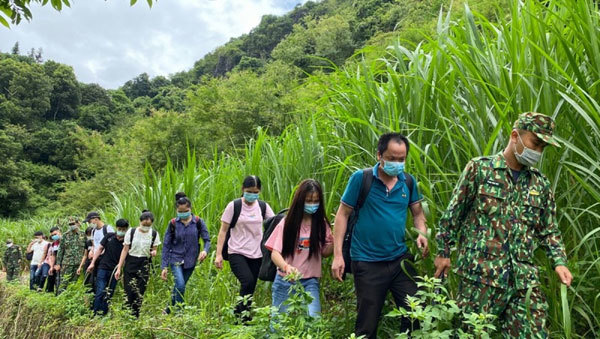 People seeking to illegally enter Vietnam through open crossings or trails along the border are said to pose a high risk of a new coronavirus outbreak in Vietnam.
"Many Vietnamese people are residing and working in Cambodia, therefore there is a big influx of human movement between the two countries," Phu told Tien Phong newspaper on April 14.
"As the COVID-19 pandemic is evolving in a complex manner in Cambodia, more and more Vietnamese people are seeking to return to the homeland, posing a high risk of a fresh outbreak in the community."
The health expert also warned of the possible emergence of a new outbreak domestically as local people plan to flock to crowded tourist destinations during the upcoming four-day holiday on April 30 and May 1.
The country is set to celebrate Southern Liberation and National Reunification Day on April 30 and International Workers' Day on May 1.
According to Phu, it will be necessary to reopen the post-COVID-19 tourism market in order to reinvigorate the domestic economy, although anti-epidemic measures must be in force.
"We must be highly vigilant against the recurrence of the virus, and if another outbreak recurs, it will be hard to control it," warned Phu.
The MoH recently worked alongside a number of provinces which border Cambodia in an effort to boost their testing capacity and carry out a vaccination campaign. Vaccinating people can be regarded as an important policy as epidemiological experts believe that many people continue to both legally and illegally enter Vietnam from Cambodia.
"The risk of infection remains very high," said Phu. "It is necessary to tighten control at border gates, open crossings and trails, while strictly quarantining entrants. Without that, it is likely that the epidemic will probably break out again."
The MoH have reported that the country detected no new COVID-19 cases within the local community over the past 30 days. Despite this positive, the number of imported cases has seen a considerable increase in recent days, with many of them returning from Cambodia.
Phu therefore recommended that border provinces should encourage local residents residing and working in Cambodia to enter the country through State-controlled border gates and fully comply with quarantine regulations in an attempt to keep the virus at bay.
VOV

VietNamNet would like to introduce an article by Prof. Nguyen Thien Nhan, Head of the HCM City National Assembly delegation.

Hanoi registered two more locally transmitted cases of coronavirus this morning (February 1), bringing its total number of infection cases to 15.