The large-scale encroachment of the sea to develop an aquarium project in Ba Ria-Vung Tau will have a long-term effect on the local environment and cause subsidence in coastal areas.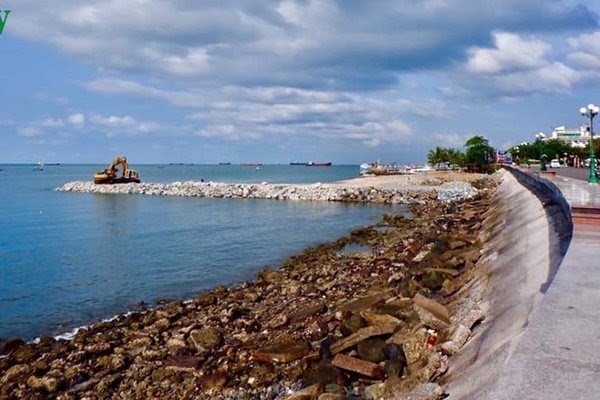 A crane truck levels rock into Bai Truoc (Front) Beach for the foundation of an aquarium project in Vung Tau, a popular tourism city in Ba Ria-Vung Tau Province in southern Vietnam – PHOTO: VOV

Since September, Vung Tau Cable Car Tourism JSC has created thousands of square meters of land on Bai Truoc (Front) Beach, the Vung Tau City façade that is popular with tourists, to build a seven-hectare resort complex, including a cable car system and an aquarium.
The Hon Nguu complex, which expects to receive 3,000-5,000 visitors per day, will encroach on the sea by 200 meters.
It will comprise two areas. In Zone A, a 22-story five-star hotel will be built, along with restaurants and sea sports facilities. In Zone B, there will be an aquarium, a beach area and a manmade swimming pool.
The US$50-million project is scheduled for completion by September 2023.
The investor told the local media that they have completed all legal procedures for the execution of the project.
Dr. Vu Ngoc Long, former head of the HCMC-based Southern Institute of Ecology, told the Saigon Times that sea encroachment and the creation of concrete blocks would produce spherical waves below the water's surface, which are invisible to humans.
These waves would create "frog jaws" or caves and cause coastal or even inland erosion, Long said.
He referenced a project to build a thermal power plant, called Duyen Hai, in the southern province of Tra Vinh. Due to encroachment, severe erosion can be seen up to 500 meters from the plant. Meanwhile, a number of neighborhoods in An Giang Province nearby have sunk into the river as a result of sand and groundwater exploitation, he stated.
According to the Law on Natural Resources and Environment of Sea and Islands, the status quo must be maintained with no permission being granted for any activity within 100 meters of the average tide, either on the mainland or the islands.
The only new construction facilities allowed will be those necessary for national defense and security, natural disaster prevention and control and sea erosion, among other things.
"Encroachment does not respect the laws of nature. The coast in Vung Tau City has long been stable… I think (authorities in) Vung Tau should stop this project and return it to its original state," he remarked.
In response to the Saigon Times' questions on the choice between economic development and environmental trade-offs for this project, he pointed out that the city has many beautiful beaches and landscapes that will allow it to become a tourism hub, so there is no need to trade off environmental protection.
Dr. Le Huy Ba, former head of the Institute for Science, Technology and Environmental Management, confirmed that the major sea encroachment area of the project would bring about adverse effects on the environment, especially with the water flow.
The encroachment process will have effects on the waves and sea currents, which could be very dangerous for tourist swimmers, according to Ba.
Lessons can be learned from similar encroachment projects in the three provinces of Kien Giang, Khanh Hoa and Quang Ninh, which have faced beach erosion and cloudy seawater, he stressed.
He noted that the aquarium project could have a major impact on the local environment and landscape in the near future, so it needs to be reassessed. SGT
 
Le Anh