Medical experts have denied the existence of a deadly virus which causes myocarditis, an inflammation of the heart muscles.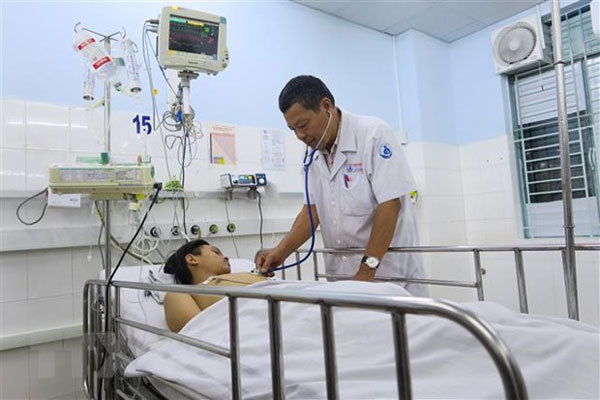 A doctor checks on a patient with myocarditis. — VNA/VNS Photo Dinh Hang
Rumours about the deadly virus have recently been spread on social media after the deaths of two women. The women had been diagnosed with myocarditis.
According to Hanoi's Disease Control Centre, the two women worked at the same institute of the Ministry of Agriculture and Rural Development, vietnamnet.vn reported.
The cause of death remains unknown. The two cases were not infectious.
Associate Professor Hoang Bui Hai, head of Emergency and Intensive Care of Hanoi Medical University's Hospital, said the rumours about the deadly virus were baseless.
There are many types of viruses that may cause myocarditis, such as flu and dengue fever. However, these cases are rare, according to Hai.
Most of the viruses will stay in the human body for a few days and become inactive. Only a small number of them attack the heart and cause myocarditis.
Myocarditis is the inflammation of the whole heart muscle or a part of the heart muscle. It is commonly caused by viruses or autoimmune pathology. Myocarditis is also caused by several types of medicine.
In many cases, patients can recover from the disease. But in other cases, it might result in serious consequences, even death.
Hai advised patients who have been infected with flu or vaccinated or taken a new type of medicine to see doctors for a check-up.
The Ministry of Health's General Department of Preventive Medicine yesterday also confirmed the rumour about the viruses had no serious foundation.
The department said the causes of myocarditis were various. Myocarditis can come from complications with Coxsackie B viruses, Epstein-Barr virus (EBV), Cytomegalovirus (CMV), Hepatitis C, Herpes, HIV, parvovirus, chlamydia and mycoplasma.
Fungal and parasitic infections can also cause it.
In order to prevent myocarditis, the department has encouraged people to practise good hygiene, avoid high-risk behavior to reduce the likelihood of HIV-related myocardial infections, practise safe sex and avoid illegal drugs. Minimising contact with insects is another preventive measure: If you spend time in areas exposed to insects, wear long-sleeved shirts and pants to cover as much skin as possible.
Other measures include proper vaccinations, including those that protect against rubella and influenza - diseases that can cause myocarditis - and limiting contact with people infected with viruses or the flu.
VNS