Fake university diplomas are being offered for sale in many places in Hanoi and HCM City.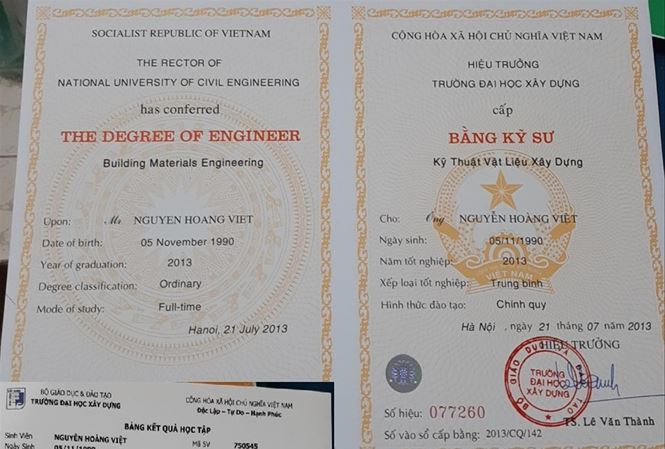 A fake diploma

Millions of results about making and trading fake university diplomas can be found on the internet. The service providers even sent advertising messages to attract customers.
A provider on Ho Tung Mau Street, Hanoi, said he could fake bachelor degrees from any university in Vietnam. Each diploma is sold for VND4m (USD171) to VND6m.
Meanwhile, another provider on Lang Street can fake bachelor degrees for VND9m with real seals.
He said he was able to connect with people who could let him use the real seals from the universities.
The provider said his customers had used fake diplomas from the University of Construction, University of Transport, and National Economics University.
According to the provider, his customers are mostly construction workers, mechanics or pharmacists.
They have the experiences but do not have the diplomas they need.
Even the leader of the University of Construction said it was very difficult to detect the fake diplomas since the seal looked very real.
However, the seal still looks a bit blurry and the font used on the fake diplomas is different from the real ones.
The fake diplomas will be found out if they check the given serial number and the student's name.
Each year, the University of Construction receives hundreds of inquiries to check the awards of their degrees.
However, the university's leaders said that their seals were closely managed so they could not be replicated outside.
Colonel Le Dinh Thanh, head of the police department in Nam Tu Liem District, said the forged diploma market was very complicated so they had had troubles in dealing with violations.
In May, they busted a case where a facility in HCM City provided a large number of fake diplomas to customers in Hanoi.
They seized 1,200 seals for various vocational schools, colleges and universities across Vietnam.
Tien Phong/Dtinews
Twelve people involved in a counterfeit cancer drug scandal at VN Pharma Company are facing new charges of selling fake medicine, instead of smuggling, according to investigators at the Ministry of Public Security (MPS).  

Nguyen Xuan Thu, general director of Vinaca Limited Company, which produced anti-cancer drugs made from bamboo charcoal powder has been sentenced to 22 years in prison.

Deputy Minister of Science and Technology Tran Van Tung, speaks to Hải Quan (Customs) Online about how to differentiate genuine goods from fake products.