With only two weeks before the new school year, students and their parents are rushing to purchase new clothes and supplies.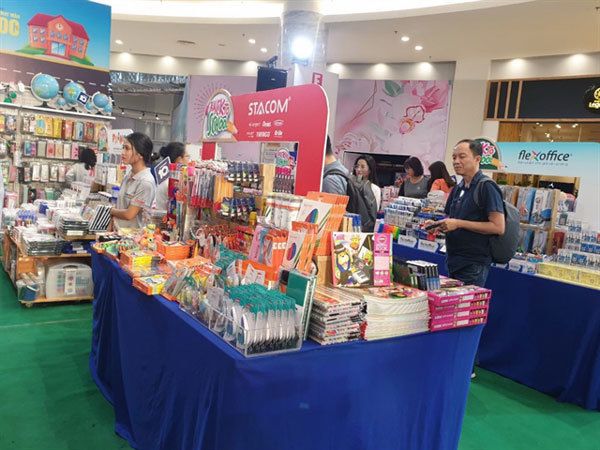 Parents look at books and stationery at the 2019 "Back-to-School" Book Fair at FAHASA Tan Phu Book Store. — VNS Photo by Phuong Mai
Nguyen Thanh Thuy of HCM City recently took her 10-year-old boy to FAHASA Tan Phu Book Store in Tan Phu District where a "Back-to-School" Book Fair was taking place.
"The store is huge and has everything we need. I'm lucky that there's a sales programme today," Thuy said, adding that she was excited to buy books, stationery and backpacks at bargain prices.
Huynh Thi Minh Chau, from the HCM City Book Distribution Corp (FAHASA), the fair's organiser, said: "The Back-to-School Book Fair is the company's annual event to serve students and to satisfy readers, especially children in rural areas."
The fair offers more than 10,000 copies of books from 80 local and international publishers and distributors. Most of them are textbooks, reference books, English-language dictionaries and children's books.
Publications of literature, history, culture and comics by Vietnam's leading publishing houses like Trẻ, Kim Đồng and Nhã Nam are also available. Best-selling titles by Vietnamese authors like Nguyen Nhat Anh are included.
Books are selling at discounts of up to 50 per cent. The event also offers a 10-50 per cent discount for 30,000 stationery items, backpacks and textbooks from popular local and foreign manufacturers Thien Long, Hong Ha, Artline, Maped and Steadler, among others.
A series of talks with famous authors such as Hamlet Truong, Ly Thanh Co, Hong Tran, and Anh Anh Khang will be organised at the bookstore.
The organiser has worked with its partners, Hoa Học Trò Weekly Magazine and the HCM City branch of Ho Chi Minh Communist Youth Union, to donate a library worth of books valued at VND40 million (US$1,720) to needy children in Binh Phuoc Province.
Leading supermarket chains including Co.opMart and Big C are offering huge discounts for school items.
Co.opMart is launching a discount of up to 25 per cent on uniforms, shoes, bags, and stationery from local brands.
Uniforms from brands Coop Select, Hai Thi and Sanding are priced at VND57,900-199,000 ($2.5-8.6) per shirt, VND66,900-239,000 ($2.9-10.3) per trousers, and VND129,000-274,000 ($5.5-11.8) per dress.
Bags from Mr Vui and Miti brands are selling for VND259,000-620,000 ($11-26.7).
Big C is also offering a 25-30 per cent discount for notebooks, pens, and backpacks.
Tran Minh Ngoc, a mother of a seven-year-old boy and a five-year-old girl from Dong Nai Province, said: "This year, there is a lot of different kinds of clothing and stationery. With the discounts, I think the prices are reasonable."
Meanwhile, leading electronic store chains like FPT Shop and VinPro are offering large discounts on laptops and electronic devices to serve freshmen at universities.
Freshmen can enjoy a discount up to 28 per cent for laptops from brands Acer, Asus, HP, Lenovo and Masstel at the FPT Shop chain.
Vinpro is offering a laptop for students at prices starting at VND8 million ($343), along with cellphones and other accessories at bargain prices.
By Phuong Mai
VNS