Farmers and agricultural officials in Vinh Long Province in Mekong Delta are rushing to prevent the worse impacts of an early saline intrusion.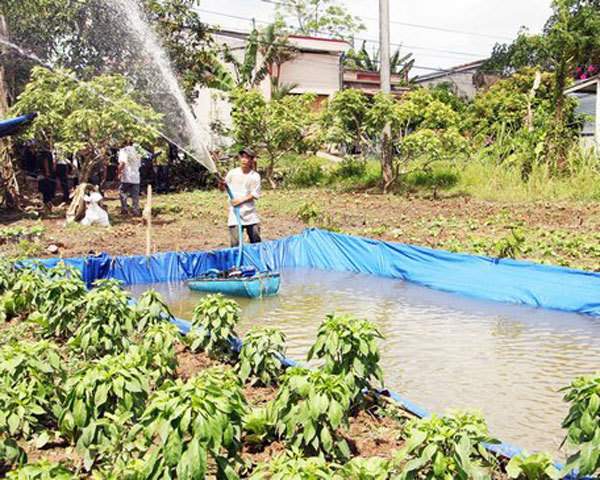 Farmers in Vinh Long Province keep fresh water for crops. — Photo danviet.vn
The saline intrusion came suddenly and earlier than previous years in districts of Vung Liem, Tam Binh, Tra On and Mang Thit of the Vinh Long so efforts to prevent saline water had faced many difficulties, reported online newspaper vov.vn.
Like many years, after sowing 1ha of rice, Nguyen Thi Dep, a farmer in Vinh Liem District's Trung Nghia Commune, would discharge saline water from her paddy fields and pump freshwater in.
However, this year, after discharging saline water, she was informed that all sluice gates were closed because the salt level in the river was higher than the allowed level for rice, which means that her paddy fields would not have fresh water for a while.
"I was ready to pump fresh water to the paddy field. But now there is no water. I was quite surprised," said Dep.
According to the Agriculture and Rural Development Department of Vung Liem District, all sluice gates at rivers and canals were closed to prevent saline water intrusion to paddy fields.
The salinity tended to increase and continued intruding inland with the tide, the department said.
The agricultural staff had to measure the salt levels in paddy fields to make appropriate recommendations to farmers as well as provide instructions of taking care rice in conditions of freshwater shortage and salinity intrusion.
The agriculture sector of Vinh Long Province reported that the salinity measured on Co Chien River in Vung Liem District was ranging from 5.8 to 8.2 grammes per kilogramme of water, 0.3 per thousand higher than the peak of 2016, while the salinity on Hau River in Tan Dinh District was 6.3 per thousand, increasing by 1.4 per thousand of the peak of 2016.
These high salinity levels would be able to devastate large tracts of rice and other crops if the water is let onto the fields.
This was the worst saline water intrusion in 38 years in Vinh Long Province, according to the provincial hydro-meteorological Centre.
The salinity intrusion occurs from February to May, with a peak in March and April, every year.
But in recent years, the phenomenon has happened earlier with higher salt levels due to climate change.
This was the first time the salinity reached 8.2 grams per thousand at Nang Am Gate and 6.6 per thousand at Vung Liem Gate in December.
Farmers and authorities were implementing several measures to protect rice and crops, said Ngo Minh Tan, deputy chairman of Thanh Binh Commune of Vung Liem District.
"The saline water intrusion was serious, but the farmers had effective measures such as building up anti-saline sluices, so their production had not yet been affected so far," said Tan.
The provincial authority has recommended farmers reserve freshwater from lakes and ponds for daily life and crops and to use it sparingly.
The province is also pushing progress of 83 irrigation works to cope with drought and saltwater intrusion.
The agriculture department is also asked to closely monitor the salinity at rivers' mouths to provide timely updates to local farmers. — VNS

The Mekong Delta plans to grow this year's winter – spring rice crop early since drought and saltwater intrusion are forecast to be severe in the dry season starting at the end of this year.

It is now the flood season in the Mekong Delta, but people there have already begun to worry about saline intrusion in the upcoming dry season.