When Pham Van Thu decided to sign papers to donate the organs of his brain-dead son two weeks ago, he did not think he would have to deal with disapproval from those around him.
Brain-dead organ donor saves six people's lives
Hanoi man's organ donation saves patients with fatal diseases
Doctors perform VN's first kidney transplant on child from brain-dead adult
Four patients saved from donated organs of brain-dead people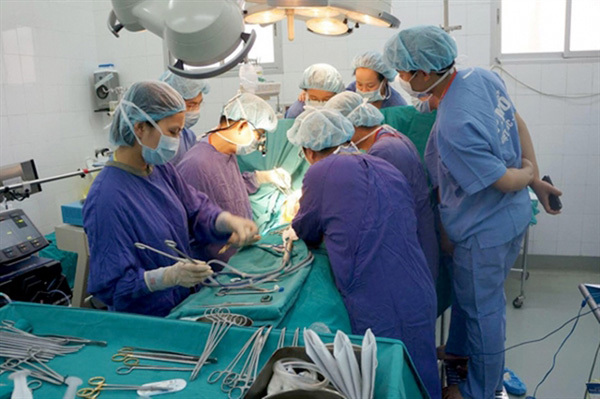 Doctors perform surgery on Pham Cong Tuan Anh, the multi-organ donor in northern Ha Nam Province's Dong Hoa Commune, at the Viet Nam-Germany Hospital. Photo vtc.vn
His family, including his wife, did not feel right about removing organs from the boy's body. They wanted to keep him untouched.
Neighbours doubted his motivation, saying he might have sold the organs of his son or made the decision to get famous.
"I still feel pain. I was on my own with the decision. It was the toughest (decision) that I've made in my life," Thu told the online newspaper doisongplus.vn.
Thu said the rumours didn't matter to him now. What he hoped most was to see patients who received his son's organs in good health.
Brave decision
Thu's 26-year-old son, Pham Cong Tuan Anh, from northern Ha Nam Province's Dong Hoa Commune, was hospitalised at Hanoi's Bach Mai Hospital after suffering severe headaches in early April.
He was diagnosed with cerebrovascular malformation, a rare condition that affected the blood vessels and blood flow in the brain. One month later, he needed surgery.
The surgery did not go well. The patient was moved to Viet Nam-Germany Hospital, but there was no hope. He was declared brain-dead after three days of treatment.
Thu said he met with some doctors to talk about organ donation. He decided to donate his son's organ after a couple of minutes consideration.
Explaining his brave decision, Thu said he witnessed many patients who were in critical condition and in desperate need of organ transplants to survive.
Thu did not want his son's death to be meaningless. With the help of the hospital, four patients were chosen to receive his donated organs.
At 6.30am on May 18, five surgeries with the participation of 130 health staff took place at the hospital. Four patients suffering from heart, kidney and liver failure underwent successful surgeries.
As planned, the hospital will conduct three more transplant surgeries for three patients in the near future.
Nguyen Quang Nghia, director of the Viet Nam-Germany Hospital's Organ Transplant Centre, said multi-organ donors such as Tuan Anh were very rare.
Every day, there were between five and 10 brain-dead patients at the hospital, but less than one per cent of patients' families agreed to donate their organs. Over the past ten years, there have been just 50 brain-dead cases agreeing to donate organs at the hospital.
The acts were respectable and memorable for all doctors, he said.
Nghia said the doctors tried their best to have more patients get transplant surgeries.
Vietnam, as well as other Asian countries, is still prejudiced that people must be left untouched when they die. This hinders the development of organ donations.
VNS