As many as 150 private educational institutions are seeking assistance from the Government, as nationwide school closures triggered by the spread of the novel coronavirus have caused great difficulties for them.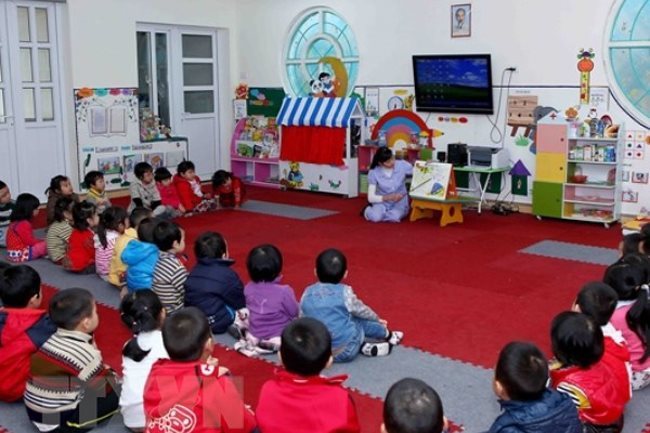 Kindergarteners attend class at a local school in this file photo. Private schools are facing enormous financial difficulties amid the coronavirus outbreak
In a joint petition, the non-public institutions, including kindergartens, primary and secondary schools, universities and foreign language centers, said the extended school suspension may force them to lay off their employees, close their schools, and face bankruptcy.
Citing a survey, they indicated that if the outbreak lasted for six months, a staggering 80% of polled private schools would see their revenues drop by over 50%, and 90% of them would go out of business.
They reported that a foreign language center has an average investment of VND2-5 billion (US$86,000-215,000) and employs at least 30 people. If 1,000 such centers went bankrupt, thousands of billions of Vietnamese dong would be lost, and more than 30,000 employees, including teachers and other school staff, would lose their jobs.
Meanwhile, the investment costs for private secondary schools average from VND80 billion (US$3.4 million) to VND200 billion (US$8.6 million), and many new schools have taken out banks loans to develop their facilities.
These private schools claimed they could not cope with rising difficulties for more than three months. If they suffered bankruptcy, or liquidation, some 200 mid-sized private secondary schools in Hanoi and HCMC would have no choice but to fire thousands of teachers.
Additionally, these schools would be unable to repay thousands of billions of Vietnamese dong in bank loans.
In their petition, the schools said they are facing an uncertain future, as they do not know when school closures will be lifted. They are currently managing to pay salaries to teachers and school staff, bank loans, and ground rents.
They further said they are taking various measures to manage their funding and bear all costs at competitive levels, in line with market mechanisms, resulting in enormous financial pressures, due to a severe shortage of revenue.
Private schools in Vietnam have been shut since the mid-January Lunar New Year, or Tet holiday. In a bid to prevent the spread of the coronavirus, authorities have extended school closures until now. SGT

Fed up with staying home for so long during the extended school closures, university students are turning to online jobs to make up for part-time employment they lost due to the impacts of the COVID-19 epidemic.

The month-long closure will affect 13 million students, the government says.