The founder of a charity in Vietnam who was awarded one of the UK's highest honours for her work with disabled children fears the doors to her school may soon close forever.
Jackie Wrafter was awarded the MBE by His Royal Highness Prince William, Duke of Cambridge, in 2018, after setting up The Kianh Foundation in 2001.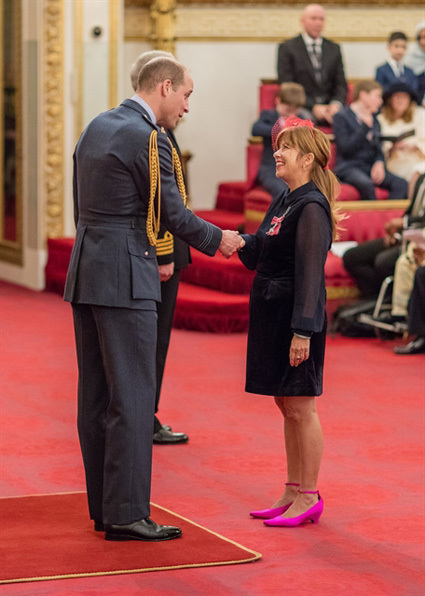 Jackie Wrafter receives her MBE medal from HRH Prince William, Duke of Cambridge. — Photo courtesy of the Kianh Foundation
Her school has helped hundreds of children get a vital education, but after the COVID-19 pandemic plunged the world into an economic recession, many of the donations vital for her school have dried up.
"Our school is run mainly on international donations, but now in foreign countries many businesses are closing down, countries are beginning to go into recession, people are losing their jobs, people just don't have spare money to donate to charity anymore," she said.
"So that is really severely impacting our monthly intake that we get to run the school."
Jackie and her friends set up The Kianh Foundation in 2001 after visiting an orphanage in the central province of Quang Nam.
"I was backpacking around the world for a year," she said
"I had left my job in London and I visited an orphanage in Hoi An in Quang Nam Province."
Jackie said her trip was a life-changing moment and led her to create a centre in Dien Ban District to help disadvantaged children in the area to live a normal life.
She added: "When I met the disabled children at the orphanage, they were just locked inside this one room, they never got to leave the room. They would just lie on their beds all day. No one took them outside and played with them.
"But when you started to give them some attention, a lot of them opened up and they were very funny little characters with really strong personalities.
"So we set up The Kianh Foundation to try to provide services and improve the lives of the children."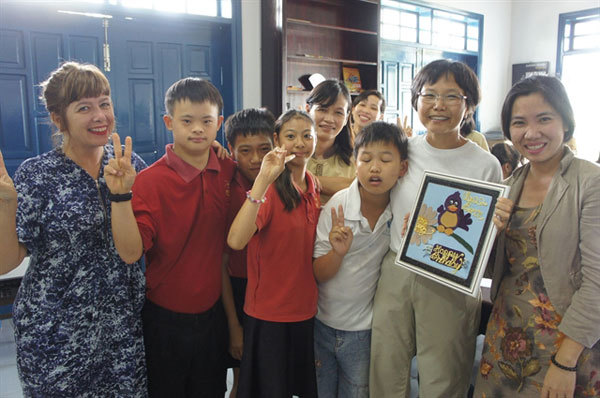 Jackie Wrafter sees her trip from 20 years ago as a life-changing moment which urged her to set up the Kianh Foundation and help disabled children in Quang Nam Province. — Photo courtesy of Jackie Wrafter
The school currently teaches 82 students from the age of one to 19 years old with many kinds of disabilities.
It is an enormous task for the teachers as they have to care for children with various disabilities including autism, down syndrome, microcephalus, deafness and blindness.
"It is a big job for our teachers because most schools might focus on one or two kinds of disabilities and here we have everything," Jackie said.
"We have various programmes to meet all of the children with different needs.
"Some of the children are able to learn the mainstream Vietnamese curriculum, so we have the mainstream classrooms for them.
"Finding the way to communicate is the biggest issue for many of our students so we provide behaviour management programmes, physical therapy, occupational therapy and communication therapy.
"We also have lots of lovely creative things for them to do like yoga, dance, music and drama.
"For older children, we prepare vocational programmes for them."
Ho Phuong Dieu, 19, has studied at The Kianh Foundation for seven years.
She has had cerebral palsy since she was born.
"I have changed a lot during my time at the Kianh Foundation. I was a shy girl before, I didn't communicate with other people around me," Dieu said.
"But when I went to the school, I realised that I am not the only one who is disabled, there are people with worse problems than me. So that's the motivation for me to keep living."
During her time at The Kianh Foundation, she's discovered many things she didn't think were possible. 
The school has buoyed Dieu from her previously gloomy life.
She added: "I have a chance to study. Besides what I learn at school, I also have other skills such as self-sufficiency and communication.
 "If I didn't go to school, I would be stuck at home only communicating with my parents.
"I only have one friend at home who plays with me. When I'm at school, I have more friends and I'm more confident."
There are many students like Dieu studying at The Kianh Foundation. Most of them are from farming families living in difficult circumstances who can't afford school fees.
More than a hundred children are still on the waiting list to enrol at the centre. The list grows every month with new families registering their children nearly every day.
"The children are so happy when they turn up at school every day," Jackie said.
"It is so exciting for them because it's the first time in their lives that they can learn to do something for themselves.
"When they come here all of the students make new friends. They get a chance to have a normal childhood, the kind of childhood that every child should have."
Many graduates from The Kianh Foundation have found jobs and now make a living for themselves.
"We would love it if we could get jobs for all of the kids when they graduate, but unfortunately it's not possible in this area of central Vietnam and probably in many areas around the world.
"But we have managed to find work for some of our students.
"Actually, quite a few of them work at one of the resorts here in Hoi An, and some also work at our school."   VNS
If you want to help The Kianh Foundation by making a donation, visit their website at https://kianh.org.uk/
Minh Phuong 

Prime Minister Nguyen Xuan Phuc has approved a programme to support people with disabilities in 2021-2030.
Tran Hoang Minh is unmarried and has fathered no children, but he has become a father figure for dozens of kids.