Completing a first university degree in biochemistry and participating in many extracurricular activities, Vuong Truc Linh has been accepted to four pharmacy schools in the US.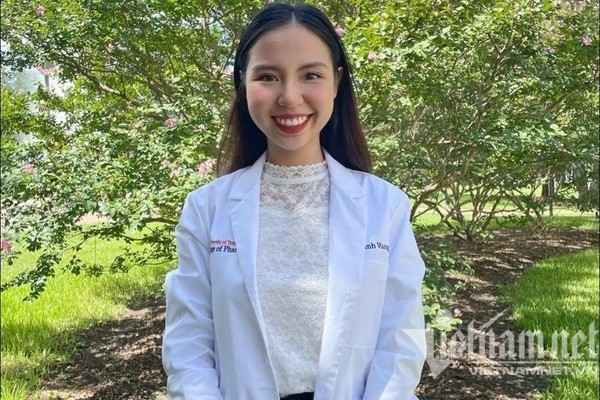 Vuong Truc Linh
Linh is now a freshman at the University of Texas at Austin's College of Pharmacy.
Prior to that, she graduated from Central High School in the US.
In 2018, realizing that she was good at mathematics and chemistry, Linh decided to apply for the biochemistry major at Washington State University (WSU) with a partial tuition scholarship.
After the first year at WSU, she was determined to study pharmacy and decided to accelerate her study to finish the school early with a high GPA.
"I registered 18 credits each semester and I studied throughout summers. I also worked as a teaching assistant in mathematics and joined scientific research projects on drugs and prostate cancer cells in a lab headed by a professor of the school," she recalled.
She attended a lot of community activities, becoming chair of the Vietnamese students' club at WSU, working as a volunteer at hospitals and taking an extra job at drugstores.
Linh said her timetable was always full.
Her great efforts were rewarded with the GPA of 3.8/4.0 after three years of study, which allowed her to finish school early.
In November 2020, Linh applied for a series of pharmacy schools with letters of introduction from professors and pharmacists with whom Linh once collaborated. However, she believes that the essay was an important factor that persuaded the enrollment council to admit her.
"I wrote about the reasons why I chose to study pharmacy. I want to help people to better understand about drugs and how to use drugs most effectively. And I explained why I chose to become a pharmacist, not a nurse or a physician. I also mentioned the difficulties I had and how I overcame the challenges," she recalled.
According to Linh, if candidates don't have high GPAs, they need to prepare their essays very well. Schools not only consider GPAs to choose students but all aspects of candidates.
In addition, preparing carefully for interview is a good way for candidates to leave a good impression on the admission council.
Good news came in early 2021. Four schools accepted Linh, namely University of Texas at Austin's College of Pharmacy, Washington State University, Oregon State University and University of Washington's College of Pharmacy. Two of them granted a 50 percent scholarship.
She finally chose the University of Texas at Austin's College of Pharmacy, though the school doesn't offer scholarship. But it has research projects fitting her study orientation. Linh plans to take a job to earn money to cover her basic needs and study. 
Ngoc Linh

As a student who once failed entrance exams to universities, Doan Thi Hai Duong has just won a scholarship with a monthly stipend of 2.800€ in a doctoral program at Max Planck for Plant Breeding Institute – Germany.

Three Vietnamese students are named in the list of 26 candidates across East Asia to win the IELTS Prize 2021, presented by the UK's international educational and cultural organization - British Council.