Despite only being 28-years-old, Vũ Hồng Thúy has seen a lifetime's work of the damage drugs can do.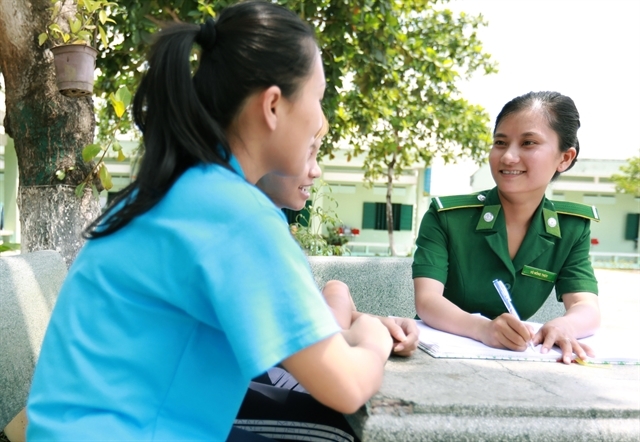 Vũ Hồng Thúy (right) talks to her trainees.
That's because she has worked for two years at a rehab clinic, the Nhị Xuân Social Centre in Hóc Môn District, HCM City.
Thúy graduated from the Social Affairs Faculty of the University of Labour and Social Affairs in 2017, and decided to apply to the Nhị Xuân Social Centre to help addicts give up heroin. Thúy had some experience with helping addicts during an internship when she was a fourth-year student.
When Thúy started to work at the centre, she was taught skills like giving emergency aid, providing consultation on food safety and hygiene, preventing infectious diseases and even martial arts to protect herself.
But nothing could have prepared her for how difficult the job could be.
Thúy had to deal with many addicts who broke the centre's rules and would even assault their roommates or the workers. These are common problems in rehab facilities in Việt Nam, where few patients are detoxing voluntarily.
However, by listening to her patients and showing that she really cared for them, Thúy started making a difference.
"The difficulty in managing the addicts is that we must understand their psychology and patiently help them follow schedules so the detoxification is more successful," said Thúy.
Thúy also learns from her colleagues in the centre, but its helping addicts get better that keeps her motivated.
Nguyễn Thị Hợp, a doctor's assistant, has worked at the centre for nearly 20 years, dealing with often violent heroin addicts that whole time.
Hợp has dealt with some addicts who would destroy her office when she was giving them a health check-up, demanding to be discharged so they could go score some heroin.
"At that time, I must be steadfast in my actions, gently appease the addicts and then prescribe appropriate prescriptions," said Hợp.
Hợp's work is busier at night when the addicts are more likely to complain of health problems such as headache, fever and abdominal pains, and handle new addicts being brought to the centre by police.
"Taking care of the detoxification patients is not only giving them health examinations and medicine, but also taking care of their living environment, giving them spiritual encouragement and explanations so that they try to stay away from drugs," said Hợp.
Hợp claimed many addicts came to see her as a family member, and shared their problems with her.
"Seeing the addicts progress day by day and have health to study and work and start a new life, we are encouraged to put even more effort in to help them," said Hợp.
Ngô Quốc Việt, deputy director of the Nhị Xuân Social centre, said that the centre houses more than 1,500 addicts.
However, with a lack of managers, the burden on ordinary workers like Hop and Thuy is huge, he said.
Workers at the centre often have to work at weekends and holidays, and face danger every day.
"With love for our work and determination to help the addicts, we encourage and help each other to overcome every difficulty," said Việt. — VNS