The local authorities have warned about the fire risks at thousands of local facilities in HCM City.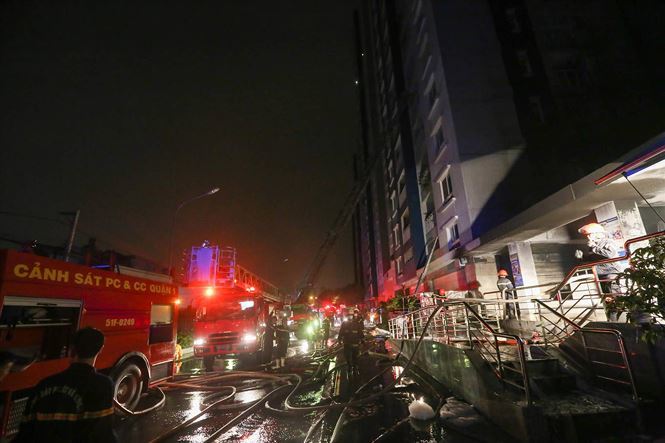 The fire at Carina Plaza in District 9 killed 13 people
According to Colonel Nguyen Thanh Huong, deputy head of HCM City Public Security Department, the city has 12,481 facilities that are at high risk of fire. Of which 149 facilities often work with chemicals and are located among residential areas including 52 chemical warehouses.
From November 2017 to March 2019, the police in HCM City dealt with 1,392 cases. They also inspected and approved 672 facilities for meeting fire safety standards. However, 720 facilities haven't been inspected due to lack of required equipment or documents.
Truong Lam Danh, head of the Legal Department of HCM City People's Council, said many of the facilities were built before the most recent law on fire fighting and anti-fire regulations was issued and took effect.
Since November 2017, up to 1,945 fires have broken out in HCM City, killing 29 and injuring 93 people. There are 17 large fires and 13 fires that led to severe consequences. The fire at Carina Plaza in District 9 killed 13 people.
Binh Chanh District has the most fires with 45 cases. District 9 and 12 followed with 44 and 42 cases respectively. In most cases, the fires were caused by problems with the electrics and equipment.
"The number of severe fires is still very high," Danh said.
According to Colonel Nguyen Thanh Huong, HCM City has 10,300 fire hydrants. The city must install 6,811 more hydrants from 2016 to 2020, however, only 1,036 new hydrants have been installed. The Department of Public Security manages 7,725 hydrants of which 1,000 hydrants have broken.
"Many investors didn't pay attention to the fire hydrants while starting the construction. Many hydrants were completely buried," Huong said.
Nguyen Thi Le, chairman of HCM City People's Council, asked the police in HCM City to work with agencies to buy the necessary equipment to deal with high-rise fires.
Tien Phong/Dtinews