All students in the first and second grades in HCM City will attend two shifts a day as opposed to one shift previously, according to an enrollment plan for the 2021-2022 academic period.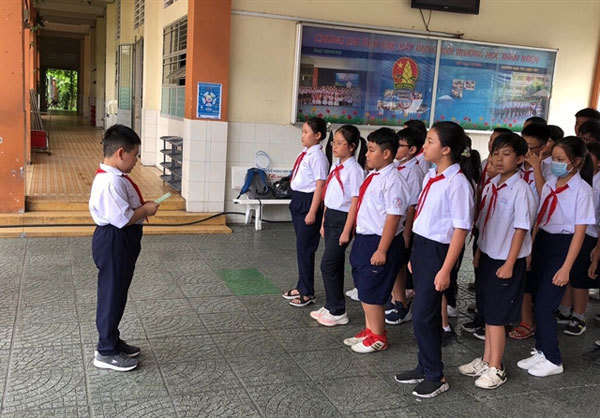 Students line up at a primary school in HCM City's Tan Phu District. The city targets having all first and second graders study two shifts a day. 
Sixth graders will be encouraged to study in two shifts, and over the next few years, the city aims to have students in other grades to study two shifts a day.
Schools must follow epidemic prevention regulations throughout the enrollment period.
For their high school entrance exam, students will still have to sit three tests in maths, literature and foreign language. But to stress the importance of foreign language training, the maximum admission score will be changed to 30 instead of 50. Previously, the scores for the maths and literature tests were doubled, and the foreign language test score was then added to that number. But this year, no test score will be doubled.
Student applicants have been encouraged to choose a high school near their residence for convenience and to reduce traffic congestion in the city.
According to the General Statistics Office, 98 per cent of children of official primary school age in 2019 were enrolled in primary schools. The figures were 89.2 per cent for secondary schools and 68.3 per cent for high schools. 
Classroom shortage
The city's Department of Education and Training has asked the People's Committee to instruct authorities in Thu Duc City and all city districts to pay more attention to the goal of having 300 classrooms per 10,000 people in the city.
When the goal is achieved, all students will be able to study two shifts each day under the new education programme, the deputy head of the department, Nguyen Van Hieu, said.
Students in six city districts still attend only one shift due to a shortage of classrooms. They are in districts 12, Go Vap, Tan Phu, Thu Duc, Binh Tan and Binh Chanh.
Under the city's plan for schools, the total land area for the education sector was set at 1,932ha by 2020. However, only 1,000ha has been used.
Vice Chairman of the People's Committee Duong Anh Duc said that school development planning for the 2021-30 period should be in line with the real demand of districts.
The city now has 2,353 schools, which includes 1,346 preschools, 500 elementary schools, 280 secondary schools, 199 high schools and 28 regular education centres.  
VNS 

HCM City is facing a severe shortage of English teachers in primary schools, partly because of stricter quality criteria required under a new recruitment programme.

HCM City has increased its budget allocation for preschool education and has called on the private sector to invest in building kindergartens to meet increasing demand.