The first set of trains for the Nhon-Hanoi elevated railway project manufactured by a French company will arrive in Vietnam next June, according to the capital city's urban railway management board.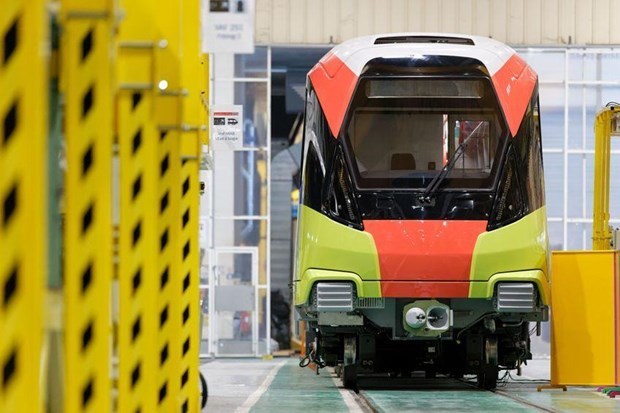 The first trains for the Nhon-Hanoi Station railway project was launched at Alstom's assembly plant this month. — Photo courtesy of Hanoi's urban railway management board
Alstom, which is manufacturing ten trains for the railway line in Hanoi, just launched its first set of trains in France and expects that four sets will be integrated into the railway system in Vietnam by August next year and run on a trial basis for two months before they are put into official operation.
The Nhon-Hanoi Station railway project has ten trains, each of which has four carriages spanning more than 78m. Each train can carry 944 passengers.
The train speed is expected to reach 35km per hour on average and 80km per hour maximum, the same speed as metros in Paris, Berlin and other Asian cities.
The project kicked off in September 2010 and was scheduled to be completed in September 2017. The city People's Committee then decided to extend the project deadline. The 8.5km elevated section will be finished in April 2021 and the remaining 4km underground line will be opened in December 2022.
Its investment of about VNĐ30.1 trillion comes from Official Development Assistance of the French Development Agency and loans from the French Government.
The urban railway line No3 , connecting Nhổn and Hà Nội Station, will span 12.5km, running through six districts: Nam Từ Liêm, Bắc Từ Liêm, Cầu Giấy, Ba Đình, Đống Đa and Hoàn Kiếm. It consists of 12 stations including eight elevated and four underground. — VNS

Deputy Prime Minister Trinh Dinh Dung on Tuesday demanded the long-delayed Cat Linh-Ha Dong urban railway line begin operation this year.

The Hanoi station-Nhon elevated railway project will be completed by 2022 after trains are brought to Vietnam in July 2020.