After three years of treatment, the first Vietnamese person diagnosed with Hematohidrosis has recovered.
Hematohidrosis is a rarely seen disease with only 200 infected cases reported so far globally. In Vietnam, a 24-year old man became the first Hematohidrosis patient.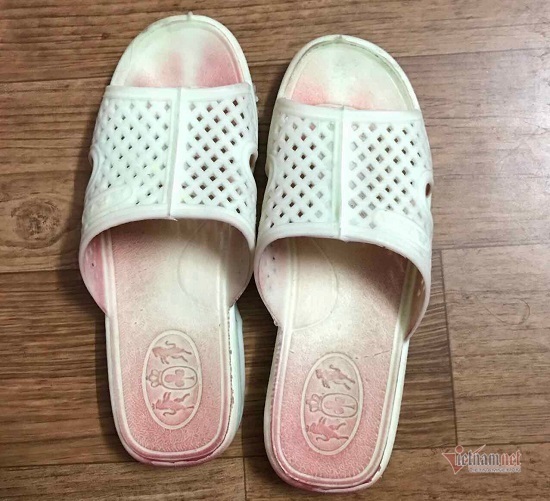 When wearing white sandals, the area that was in contact with the skin would turn red
Dr Tran Hau Khang, chair of the Vietnam Dermatology Association and former director of the Central Dermatology Hospital, treated the patient. He said the patient met him for consultancy in May 2018 at the introduction of a professor at Hanoi Medical University.
The young man said every time he ran or did heavy work, his sweat would be red. When wearing white shirts and white sandals, the area that was in contact with the skin would turn red.
The phenomenon appeared about one month before he visited the doctor. He had gone for examinations at many hospitals, but doctors were unable to identify the cause.
Khang, who has spent many years researching rare diseases and dermatological phenomena, questioned the patient and performed a clinical examination. He thought that it was possibly Hermatohidrosis.
Two tests considered the gold standards in diagnosis of the disease were taken. They included a test to find the components of red blood cells in perspiration and the biopsy of skin to view pathological images.
After one week, the two tests showed positive results. The patient was then confirmed as suffering from Hermatohidrosis and became the first Hermatohidrosis patient in Vietnam.
Hermatohidrosis is not dangerous to health, but has a great psychological impact. Scientists believe the phenomenon occurs when someone falls into a state of excessive fear and stress.
Of the nearly 200 cases recorded so far in the world, many were prisoners under the death penalty who experienced the phenomenon on the day before the execution date. In other cases, the patients were crew members who faced storms at sea that could sink their ships. Other patients were those who lost their loved ones.
The 24-year-old man said that he suffered from constant anxiety, regular mental tension, and insomnia.
Khang stressed that while Hematohidrosis patients all have experienced emotional trauma or extreme stress, not everyone with psychological problems is susceptible to the phenomenon.
The causes behind Hermatohidrosis remain unclear. However, scientists believe that extreme stress, serious tension, and psychological disorder over a long period play a very important role in the pathogenesis of this rare phenomenon.
In order to treat Hermatohidrosis, Khang mostly prescribed sedatives to ease tension and relieve insomnia. He also offered consultations on how to relieve psychological disorder and avoid stress. 
Thu Ha

The Ministry of Health has asked health departments at all localities to enhance measures to prevent Whitmore disease.

Residents in the No 4 quarter in Linh Trung Ward in HCM City's Thu Duc District take pride in their community by cleaning up the local environment and recycling products as part of a successful community-based model.