Fishermen in the Cuu Long (Mekong) Delta province of Tien Giang have improved their working conditions and raised profits by using more advanced technologies.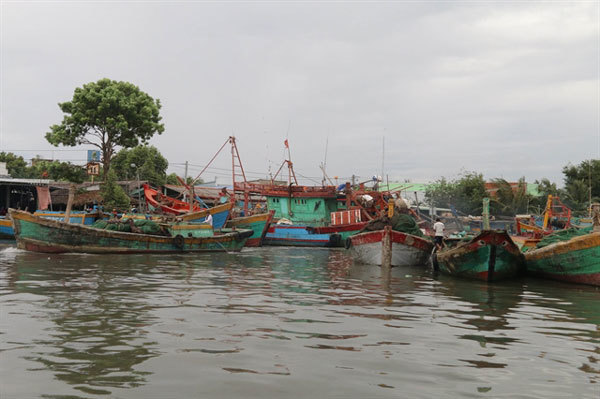 Fishing boats dock at the Vam Lang Fishing Port in Tien Giang Province's Go Cong Dong District. – VNA/VNS Photo Minh Tri
Filtration devices that produce potable water from seawater are now being used widely, as well as fish-finder devices to search for fish sources and compact lights to save electricity.
In 2017-18, the province's Agriculture Extension Centre promoted the use of seawater filtration devices on offshore fishing boats and logistics fishing boats.
One device can produce 80 to 150 litres of potable water per hour and supply enough water for drinking, eating and other uses for fishermen on their boats. The device is now on more than 60 fishing boats and logistics fishing boats.
Nguyen Van Han of My Tho City uses filtration devices on his four logistics fishing boats. "The price is not very expensive," he said, adding that he no longer has to transport fresh water from the mainland.
The devices have reduced transport costs and ensured the quality and safety of supplied water, he added. The filtration devices cost VND49 – 64 million (US$2,100 – 2,740) each.
According to Huynh Trung Thao of the centre water produced from filtration devices meets potable water standards of the Ministry of Health.
The province, with financial support from the National Agriculture Extension Centre, provided funds for eight offshore fishing boats to install eight horizontal fish-finders, which increased catches by 50 per cent.
The province has also told fishermen to replace their high-pressure lights with compact lights at night. This saves about 50 litres of diesel oil used to generate electricity each night.
About 80 per cent of the province's offshore fishing boats use polyurethane foam to preserve fish longer and reduce the use of ice.
With a coastline of 32 km, many people make a living by fishing offshore, the province's key economic industry, according to Nguyen Van Danh, secretary of the province's Party Committee.
Huynh Van Sach, who has three offshore fishing boats in Go Cong Dong District's Vam Lang Town, said the province had provided training courses on the use of equipment and fishing safety. He now earns about VND300 million ($12,870) a year from fishing.
Co-operative teams for offshore fishing boats have also improved fishing capacity and efficiency in recent years. The province has 42 such teams and one fishing co-operative, with 369 fishing boats and 3,256 fishermen.
Vo Van Xoi, head of a co-operative team in Go Cong Dong District, said previously the fishing boats operated separately and faced high operation costs, unstable incomes and several risks.
With more boats going together out to sea, the team's profits have increased to VND1 billion ($42,890) a year, he said.
As of the end of last year, the province had 1,438 fishing boats.
VNS