Ha Giang Province People's Court sentenced five people for allegedly cheating on the 2018 national high school exams at a first instance trial on Friday.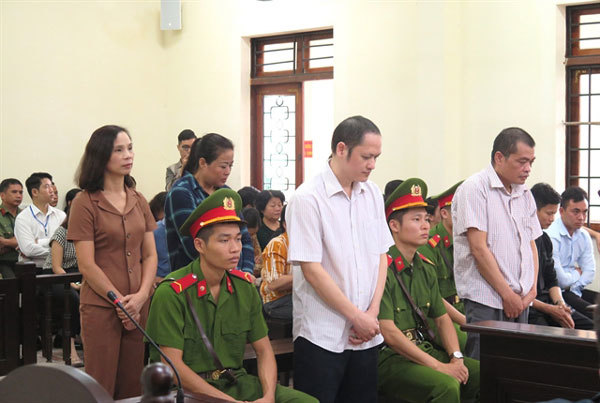 Defendants at the first instance trial on Friday. — VNA/VNS Nguyen Chien
Nguyen Thanh Hoai, former chief of the local Examination and Quality Management Division, was sentenced 8 years in prison for abusing position and power while on duty.
Vu Trong Luong, former deputy chief of the division, received 7 years in prison on the same charge as Hoai.
Trieu Thi Chinh, former deputy director of the province's department of education and training (DOET), and Le Thi Dung, former deputy head of the Internal Political Protection Division at the Police Department got two years imprisonment on the charge of abusing their power to influence other people for their own gain, based on the 2015 Penal Code.
Pham Van Khuong, former deputy director of the province's DOET, was sentenced to one year in prison on a similar charge but given a suspended sentence and 2-year probation.
The court proposed the province's DOET to keep all exam papers and answer sheets of the 2017 national high school examination for further investigation.
The Jury Board also asked the Investigation Agency under the Ministry of Public Security to clarify the crimes of the involved suspects in the case.
According to the list of the results by the Ministry of Education and Training, 318 test sheets out of 114 candidates were adjusted upwards.
Investigation showed that Luong has intervened in the results of 309 test sheets belonging to 107 students, to increase their scores.
Students ended up with results more than 20 marks higher than they should have got.
At the trial, the Jury Board said the actions of the defendants had serious consequences, affecting fairness in society. The fact that the case was brought to trial contributed to prevent the occurrence of similar acts.
The last examination was taken by 5,400 Ha Giang students. In the top 11 students nationwide with the highest scores, the province contributed three. Regarding the physics test, 65 students scored nine or higher, accounting for 67 per cent. The abnormal result triggered social uproar.

A lower court in Ha Giang is hearing a case involving four former senior education officials for their alleged involvement in the 2018 high-school test score rigging scam after a month of adjournment, as many witnesses failed to show up last month.

Ha Giang Provincial Party Committee's Inspection Commission announced on Tuesday the results of examinations into 151 people, including Party members, involved in serious wrongdoings in the 2018 National High School Exam cheating scandal
VNS