Two days of heavy rain in north Vietnam has left five people dead, five more injured, and one person missing.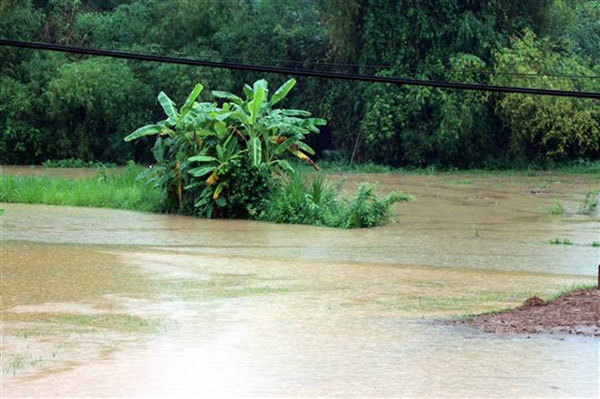 Paddy fields were flooded in Tuyen Quang Province. — VNA/VNS Photo
Torrential rain swept through the north since Monday afternoon flooding several cities and districts in a dozen of localities in the region, washing away houses, damaging roads and causing traffic disruption.
The recorded rainfall ranged from 55mm in Hanoi and up to 240mm in Thai Nguyen Province.
According to local authorities, the five killed were in Thai Nguyen and Tuyen Quang provinces.
In Thai Nguyen Province, strong wind and rain pushed over a part of the boundary wall of a factory, killing three people.
The incident occurred at around 4.45am on Tuesday. Four builders were sleeping in their shack next to the wall collapsed.
The three victims were identified as 45-year-old Nguyen Viet Tuan from Hanoi and Ha Giang residents Vang Van Luong, 18 and Vang Van Thoi, 20.
The last builder, Vang Van Vieng, only suffered minor injuries.
Flooding in Tuyen Quang Province meanwhile swept away a whole family of three. Rescuers managed to find the bodies of two and were still searching for the last victim.
Lighting struck four people in Bac Kan Province, of whom three were from the same family. Their lives were not in danger, though, said the local authorities.
Under water
Thai Nguyen Steering Committee for Disaster Prevention and Control and Rescue reported that heavy rain flooded nearly 1,100 houses and some 670ha of rice fields along with several roads. Water submerged a power substation in Thai Nguyen City, which led to a wide-scale power outage across the Thinh Dan Ward.
The mountainous province of Bac Kan also suffered economic loss when more than 230ha of paddy fields were flooded, while Ha Giang had about 100ha damaged.
Some 300 houses in Ha Giang's Yen Minh Township and Mau Due, Ngam La, Dong Minh communes were submerged with a large number of residents' furniture and assets washed away in the flood.
Cao Bang authorities said the province lost more than 117ha of paddy field while landslide and flooding on the inter-provincial road No 222 halted traffic flow.
Congestion was also reported in Lai Chau Province after three inter-provincial roads were slightly damaged by landslide.
The municipal Department of Transport deputy director Mai Khac Phuong said falling soil and rocks blocked traffic on roads No 133, 127 and 135.
Authorities mobilised forces to clear up the roads on Tuesday morning and traffic was back to normal by noon, he said.
More rain coming
In the capital Hanoi, rain resumed on Wednesday morning for a couple of hours following a short break the previous day.
The National Centre for Hydro-Meteorological Forecasting warned more rain was expected on Wednesday night across the whole northern region.
The Standing Office of the Central Steering Committee for Disaster Prevention and Control issued orders asking municipal disaster committee to stay alert and watch out for flash flood and landslide, especially in mountainous areas vulnerable to the disasters.
VNS