Hanoi and the four northern provinces of Hung Yen, Bac Ninh, Bac Giang and Vinh Phuc have proposed a major highway project to the Prime Minister.
The Ring Road 4 project will pass through 14 districts in the five localities with a total length of around 98 kilometres. The route will mainly go through Hanoi with 56.5 kilometres, Hung Yen with 20.3 kilometres, and Bac Ninh with 21.2 kilometres. The start and end points of the project are in Vinh Phuc and Bac Giang provinces.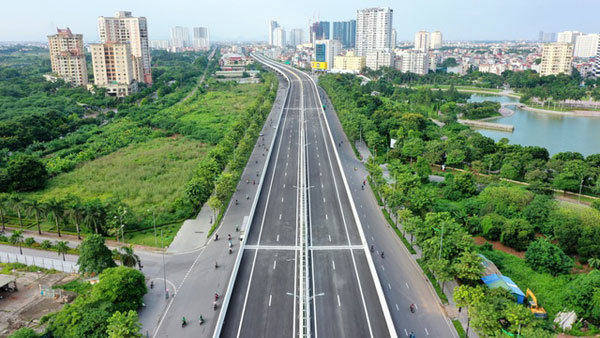 The Ring Road 4 project will pass through 14 districts in the five localities with a total length of around 98 kilometres.
The localities recommended two options for the construction of the project, with the first without overpasses costing VND105 trillion (USD4.56 billion) and the second including two bridges crossing the Red River with VND135 trillion (USD5.86 billion). Site clearance for the project is estimated at around VND25 trillion.

Under the proposal, the project will be carried out under the combination between the state budget fund and public-private partnership (PPP) form. Of this, the elevated highway sections will be totally conducted under the PPP form.

Earlier, in 2011, the prime minister approved the Ring Road 4 project in Hanoi which has six lanes and has a total investment of VND66.5 trillion.
Localities were instructed to arrange capital for the project implementation. However, only Hanoi implemented some parts of the projects, while shortly after investment was suspended. Meanwhile, sections going through Bac Ninh and Hung Yen remained on paper.

By late August last year, the prime minister asked the Ministry of Transport to reactivate the project.

The Ministry of Transport has recently assigned Hanoi to be on behalf of the four provinces of Bac Ninh, Vinh Phuc, Bac Giang and Hung Yen to take the lead in the project implementation.

The project is expected to not only ease traffic overload, expand development resources, connectivity and trade in goods among localities in the Hanoi and the key northern economic region, but also help Hanoi and the provinces gradually perfect transportation systems as planned, making it easier for them to step up socio-economic development in both urban and rural areas, said Secretary of the Hanoi Party Committee Dinh Tien Dung.
Dtinews

Building transport infrastructure is hoped to help Hanoi's outskirts areas develop and create the potential for modern urban development as there is less and less land available in the inner city.

Those who have travelled far and long and then returned to Hanoi have been amazed by the rapid changes in the capital's appearance over recent years.