Hit by unprecedented rainfall, Phu Quoc Island off the Mekong Delta province of Kien Giang has faced heavy floods over the past few days because of the island's old drainage system.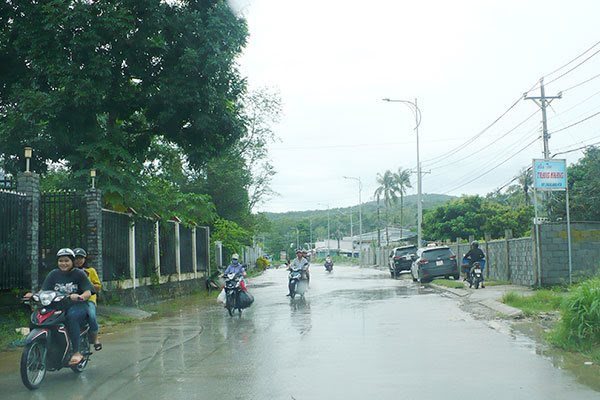 People drive down a street on Phu Quoc Island. Phu Quoc Island has faced heavy floods over the past few days due mainly to the island's old drainage system
A source from the Phu Quoc authority said that the old rainwater drainage system worked effectively only when the population was sparse.
However, the island has seen the rapid growth of its population and a rising number of tourists. According to the Kien Giang government, Phu Quoc Island had more than 127,700 inhabitants by April.
Besides this, statistics from the provincial Department of Tourism indicated that in the first half of 2019, the island welcomed some 2.26 million domestic and international visitors.
Therefore, the drainage system is overwhelmed, making many parts of the island flood-prone.
Combined rainfall between August 2 and 5 was recorded at 501.2 mm, the highest ever seen on Phu Quoc Island, coupled with rising sea levels, preventing water from rivers and streams from draining into the sea.
The heavy flooding on the island was also attributed to the fact that natural drainage systems like canals have been encroached on by residents, hindering the runoff.
To prevent heavy flooding on the island, the island authority will focus on handling encroachments on rivers and streams. Apart from that, the authority is also proposing the Kien Giang government conduct research on the development of a drainage system for the entire island, upgrade the drainage system in Duong Dong Town and build a large reservoir to regulate floodwaters in town.
Over the past few days, up to 34 kilometers of roads on the island were submerged under 0.6-1.5 meters of water. The total losses caused by the floods were estimated at VND68 billion, according to the source from the Phu Quoc authority. SGT
Dao Loan
Potholes have appeared in a large number on the streets of Phu Quoc Island after the recent flooding.

Authorities in Phu Quoc said the island must find a permanent solution to its flooding problem after it experienced the worst flooding in its history this month.