Sa Dec flower village in Dong Thap and ornamental flower village in Cho Lach District of Ben Tre are bustling not because of flood of visitors but flower growers are busy preparing for the upcoming Lunar New Year, which will begin on January 25.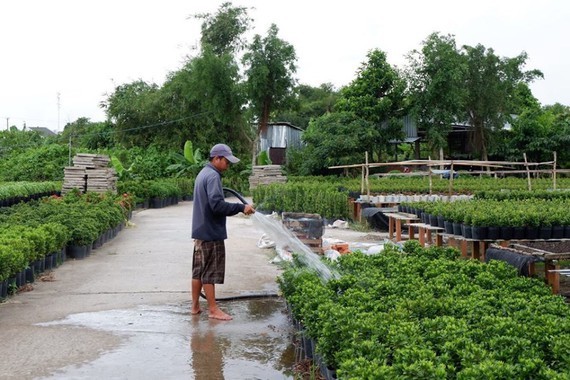 A flower farmer is watering his plants to to fully develop in shape and beauty before selling them for decorations during Tet
In these days, some farmers in Sa Dec flower village are busy rowing flowers in vast fields while other are pruning branches off their pots of flowers to enable their plants to fully develop in shape and beauty before selling them for decorations during Tet.
Such scenes can be seen in Sa Dec, a renowned flower village in the Mekong Delta province of Dong Thap, about 140 kilometers from Ho Chi Minh City, in the run up to the Lunar New Year.
Experienced farmer To Van Trac said flower growers plant flower and ornamental trees continuously despite rainy season. Roses, chrysanthemums, dahlias, lilies, and orchids, to name but a few, along with trees for gardens and interior décor are grown in his 2,000 meter square.
He said to supply around 50,000 pots of flowers and ornamental trees to meet demand of Tet market.
In addition to supplying more than 100,000 pots of traditional flowers, Chairman of Flower Association "I love Violet" Tran Van Tiep said that he has two additional flower kinds named "violet" and "con buom xinh" (beautiful butterfly).
This year, increase in production material costs and unpredictable weather will push up prices of flower and ornamental plants by 10 percent.
Because of increasing demand, land for growing ornamental flower expanded. Around 649 hectare in Tan Khanh Dong Commune in Dong Thap Province is growing flower and ornamental plants excluding land in Tan Quy Dong Commune.
Flower village in Ben Tre Province's Cho Lach District supplied around 12 million of ornamental flowers last year. The Department of Agriculture and Rural Development of Cho Lach District revealed the district would bring the same amount of flower to markets.
Farmers grows year-round ornamental plants and bonsai citrus trees which people buy a lot in these days near Tet holiday to decorate offices and entertainment parks.
Locals and wholesalers bargain over flower purchases and sales as well as exchange merry chats, awakening the village that is mainly quiet at the rest of the year.
Bonsai artist Nguyen Van Cong in Cho Lach District said every year, he hired 12 people to prune branches off plants.
This year, he has received an order of more than 100 mouse-shaped ornamental plants at VND2 million- VND5 million (US$ 86- $215) each pot.
Apricot is an integral plant in the traditional holiday of Vietnamese people. The word "Yellow" (vang) in Vietnamese coincidentally sounds identical to the word "Gold" or "Golden".
Consequently, apricot blossoms are decorated in most of the houses with a hope of good luck, happiness and, prosperity.
Farmer Nguyen Thi Nga in Cho Lach said to prepare more than 100,000 ornamental flower as per traders' order. SGGP
Anh Quan

The HCM City Labour Federation and trade unions plan to provide free bus, train and flight tickets to 35,500 disadvantaged workers to visit home for Tet (Lunar New Year) in late January next year.

Travel companies in HCM City are selling package tours for a seven-day Tết (Lunar New Year) holiday which starts on January 23 (or the 29th day of the last lunar month).
Prime Minister Nguyen Xuan Phuc has agreed to a Ministry of Labour, Invalids and Social Affairs proposal on a seven-day holiday for the Lunar New Year (or Tet) in 2020.