The Ministry of Public Security on Saturday evening declared that it had arrested two former deputy principals of Dong Do University for "forging in their work".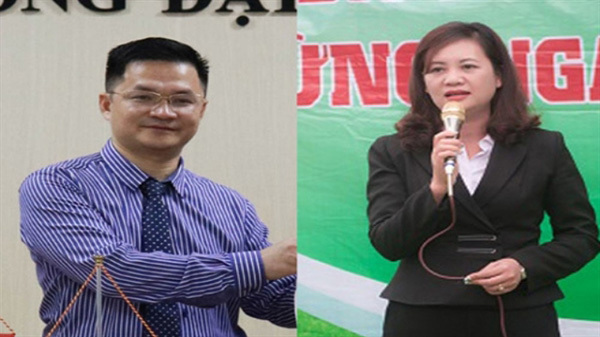 Le Ngoc Ha (left) and Tran Kim Oanh. — Photo dangcongsan.vn
The first deputy principal is Tran Kim Oanh, 41, registered in family record book to live in Vinh Tuy Ward, Hai Ba Trung District and in fact lives in Mai Dong Ward, Hoang Mai District.
The second one is Le Ngoc Ha, 41, register in the family book to live in Quang Trung Ward, Ha Dong District and in fact lives in Cu Khe Commune, Thanh Oai District.
The police on Friday examined Oanh's and Ha's work office and houses.
More investigation is being conducted on the case.

The Ministry of Public Security on Tuesday issued an arrest warrant against Tran Khac Hung, 47, chairman of the Board of Directors and head of the Training Institute at Dong Do University on charges of forgery.

Most of the buyers of bachelor's degrees in English from Dong Do University hold important positions in state agencies, and most followed training courses to upgrade their education levels, which helped them get job promotions.

Professor Nguyen Phuong Nga, Director of the Centre for Education Accreditation, talks to VietTimes online newspaper on the need to have effective measures to ensure fairness for all students sitting examinations.
VNS