The HCMC People's Procuracy on December 27 proposed a jail term of seven to eight years for Nguyen Huu Tin, former vice chairman of HCMC, for his alleged involvement in the illegal handover of a public plot of land.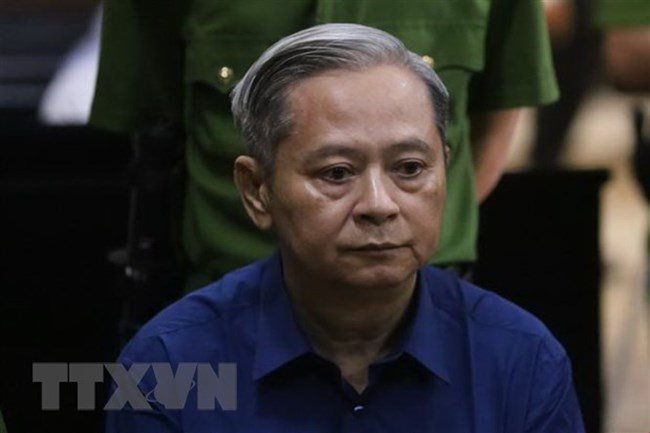 Former HCMC vice chairman Nguyen Huu Tin in court - PHOTO: VNA
Tin and his accomplices were charged with violating regulations on State asset management and use, leading to losses and wastefulness, while involved in the handover of a land lot at 15 Thi Sach Street in District 1 to Danang-based Bac Nam 79 Construction JSC, owned by notorious business tycoon Phan Van Anh Vu, also known as Vu Nhom.
The procuracy also suggested the same prison term for Dao Anh Kiet, former director of the municipal Department of Natural Resources and Environment, news site VnExpress reported.
Meanwhile, Truong Van Ut, former deputy head of the department's Land Management Division, and Le Van Thanh, former deputy chief of the HCMC People's Committee Office, may stay behind bars for five to six years. In addition, a prison term of four to five years was proposed for Nguyen Thanh Chuong, former head of the office's Urban Division.
According to the HCMC People's Procuracy, from 2014 to 2016, the Ministry of Public Security asked the city government to make it possible for Bac Nam 79 Construction JSC – a front for the ministry – to lease the prime land for the ministry's professional operations.
Tin later signed documents to hand over the land to the company, causing initial losses of more than VND6.7 billion for the State budget and losses in terms of land use rights worth VND802 billion.
Tin, who was the municipal deputy chairman in charge of construction, land management and environment during the 2011-2016 period, was aware of the State's ownership of the land. The use and management of the land must be decided by the 09 Steering Committee, which was in charge of the rearrangement and handling of public houses and land, led by then HCMC chairman Le Hoang Quan.
However, when the proposal from the company and the Ministry of Public Security was raised, Tin did not report it to the committee but asked the municipal Department of Natural Resources and Environment to help Vu's company complete the required procedures.
Tin has admitted his errors and submitted VND1.5 billion to offset the State's losses. However, he denied being the mastermind behind the deal for any personal gain, stating that he had approved the land transfer based on the order of the Ministry of Public Security and after consulting with local departments.
Kiet, who was the head of the municipal Department of Natural Resources and Environment at the time, should have known that the handover of public land would require an auction but still advised Tin to hand over the land to Vu, according to the procuracy.
While all the other accused admitted guilt, only Kiet claimed innocence. SGT