Le Bach Hong, former deputy minister of labour, invalids and social affairs and former general director of Viet Nam Social Security (VSS), was sentenced to six years in prison by the Ha Noi People's Court yesterday.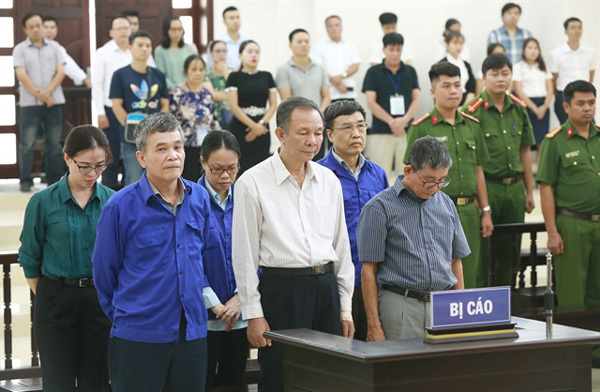 Defendants at the court hearing on Thursday. VNA/VNS Photo Doan Tan
He was charged with "intentionally violating State regulations on economic management, leading to serious consequences", which caused a loss of more than VND430billion (US$18.7million) to the VSS.
Nguyen Huy Ban, former general director of the VSS, and Nguyen Phuoc Tuong, former head of the planning-finance department and former chief accountant of the VSS, were handed 14 years in prison each on similar charges.
Hoang Ha and Tran Tien Vy, who are former heads of the general planning division under the planning-finance department, will serve three and seven years respectively in prison.
Tran Thanh Thuy, a former specialist at the general planning division, was sentenced to two years in prison for "lack of responsibility, causing serious consequences", but she was handed a suspended sentence.
The six defendants caused losses of VND1.7 trillion ($74million) to the VSS.
They have been ordered to pay more than VND835 billion ($36.3 million) to the VSS, including more than VND150 billion ($6.5 million) from Le Bach Hong, VND292 billion ($12.7 million) from Nguyen Huy Ban and than VND390 billion ($17 million) from the others.
According to the judgment, Hong, as VSS general director, signed and directed the execution of three loan contracts for Agribank Financial Leasing Company No 2 (ALC II), which it is now unable to recover, causing State economic losses of more than VND434 billion ($18.8 million).
Agribank was asked to pay compensation of more than VND862 billion ($37.5 million) for the VSS.
Meanwhile, Ban is accused of signing and directing the execution of 11 other loan contracts worth VND630 billion ($27.4 million) for ALC II, which was not in line with the investment principles of the VSS fund, causing State economic losses of over VND1.26 trillion ($54.8 million).
The other four defendants followed orders from Hong and Ban to sign contracts with ALC II, which violated the Social Security Law.
The state securities fund is made up of Government assistance and contributions from employers, employees, the self-employed and people with insurance to be used for the payment of social security benefits as stipulated in the law.
The law stipulates the VSS is not a finance or credit organisation and is therefore not authorised to offer loans.

Former Deputy Minister of Labor, Invalids and Social Affairs Le Bach Hong, 65, has been indicted for his role in causing losses of VND1.7 trillion (US$73 million) for the Vietnam Social Security.  
VNS