Police in Huong Son District, Ha Tinh Central Province have charged three people for causing a forest fire.
Forest fires continue to affect central Vietnam
Man prosecuted for causing large forest fire in Ha Tinh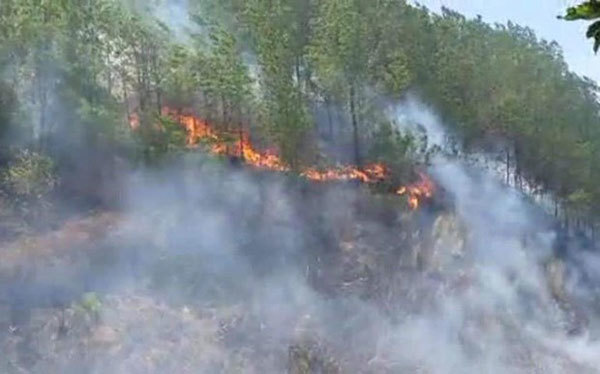 A forest fire occures in Huong Son District, Ha Tinh Province recently. — VNA/VNS Photo
The accused are Nguyen Van Suu, 46; Cao Huy Chuong, 48; and Luong Xuan Thinh, 52. They all reside in Huong Son District.
According to local police, at 7.30am on June 23, Suu, Chuong and Thinh rode motorbikes to Khe Nhong forest in Son Hong Commune to look for beehives to collect honey.
They are accused of burning a torch to smoke the bees out from a hive and caused the forest fire by accident.
They reportedly tried to extinguish the flames but strong winds hamstrung their efforts.
Local authorities and fire-fighting forces rushed to the forest to stamp out the fire, which burned 70ha of forest and 13 houses before it was controlled.
Earlier last Wednesday, a woman from Son Trung Commune, Huong Son District, was banned from leaving her place of residence and is being prosecuted for the same crime as the three men above.
Nguyen Thi Hao, 36, allegedly caused a forest fire, destroying about 3ha of local forest.
Due to prolonged hot dry weather together with strong winds, forest fires have broken out in several locations in the province recently.
Local investigators are working to find the causes of other fires.
VNS