Four children aged 5-7 in Khanh Hoa Province drowned on Wednesday in a pond, a local newspaper reported.
Three children in Kien Giang drowned at construction site
Five young victims drown
Two school boys drown after swimming at beach in Binh Thuan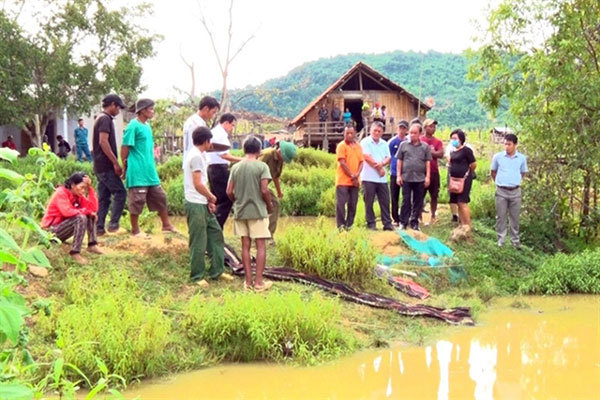 Local authorities and residents gather at the pond where four children drowned on Wednesday afternoon. — Photo baokhanhhoa.vn
The incident occurred in early afternoon after a group of five children from Khanh Hiep Commune, Khanh Vinh District went for a swim in a pond in Ba Cang Village, said Vo Van The, chairman of Khanh Hiep Commune.
The children reportedly strayed into a deep section of water, which one was able to escape to swim to shore and call for help.
After an hour of searching, the boys were found and taken to a local medical facility where were pronounced dead.
The victims were all relatives and of the Ede ethnicity.
Earlier on May 20, four secondary school students also drowned while swimming in a river in Ninh Hoa Township, Khanh Hoa Province.
The four students were also identified as relatives, according to Đời Sống & Pháp Luật (Life and Law) newspaper.
VNS