Four Chinese who illegally entered Vietnam in order to escape the Covid-19 outbreak were found in the central province of Thua Thien-Hue on March 5.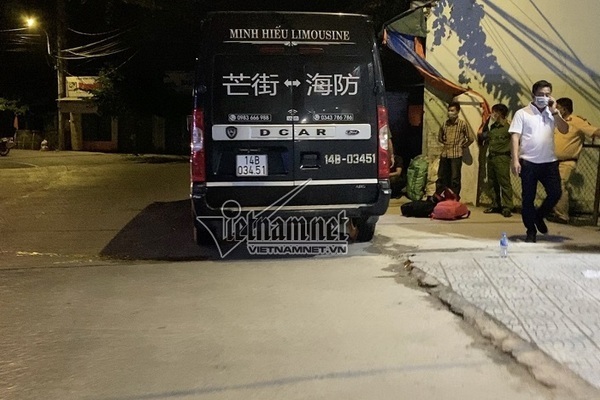 The car hired by the four Chinese men
The Chinese men are Wang Xiao Ming, 26; Wang Xiao Chao, 28; Wang Shi Sen, 23 from Fujian Province and Shu Chan Nan, 40 from Guangdong Province. 
According to deputy office manager of the provincial People's Committee Nguyen Dinh Bach, the Chinese admitted that they had crossed the border into the northern province of Quang Ninh and hired a 16-seat car to go to the central city of Danang to avoid Covid-19.  
Bach added that the Chinese men had failed to show their legal entry papers. Only Shu Chan Nan had a passport but it had not been stamped.
They and two Vietnamese drivers of the car were quarantined at a military school in Quang Ninh. 
Thua Thien-Hue police are waiting for opinions from the Immigration Department under the Ministry of Public Security for options to deport the Chinese. 
Bach noted that they could be sent back to China after being monitored for 14 days or tested negative for the Covid-19 virus. 
Initial medical checks showed the Chinese men had no health problems.

Border guards of Lao Cai and border management officers of the Hekou entry-exit check point of China's Yunnan province held a joint patrol on February 27-28 to boost law enforcement and COVID-19 prevention.

Tang Hong, director of the Cat Linh-Ha Dong metro project, has been placed in quarantine in accordance with prevailing regulations amid the new coronavirus outbreak after he returned to Vietnam from China for work.