Four people suspected of leading a gambling ring in the northern province of Hung Yen have been arrested, reported online newspaper vietnamplus.vn yesterday.
Online gambling ring broken in Haiphong
Online gambling ring broken up in Bac Ninh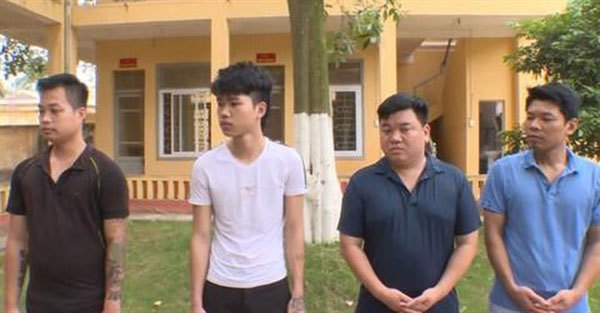 Four suspected leading a gambling ring. — Photo bizlive.vn
The gambling ring was worth more than VND2 trillion (US$85.5 million), Hung Yen Police said.
Police arrested Pham Cong Bang, 29, Pham Cong Bien, 31, Dao Viet Lam, 20, Tran Duc Khien, 27.
Raiding their office, the police seized 15 mobile phones, 3 PCs, a laptop, a large amount of cash, several bank cards and books.
The police blocked the suspect's bank accounts.
The total amount of transactions were worth VND2 trillion, covering 13 branches nationwide, police said.
Bang was identified as the leader of the ring.
The police discovered that the four people had been working as second-level agents for gambling websites in which gamblers use real money to buy virtual money for gambling.
The winners then receive real money converted from the virtual cash.
The four people arrested were also involved in a gambling ring worth VND1 trillion (US$42.7 million) which was discovered in January.
Since January, the police have taken into custody 19 suspects from Hung Yen Province's Kim Dong, Khoai Chau, Tien Lu and Van Lam districts and Hung Yen City, Lam Dong Province's Da Lat City, Hanoi's Soc Son and Me Linh districts, and Tuyen Quang Province's Yen Son District.
The suspects had moved to Da Lat City to operate an online gambling ring which covered Hung Yen and many other provinces nationwide, according to police.
Nguyen Van Toan, the head of the ring, told police that he had acted as an agent for a gambling website operated by a group of Vietnamese living abroad.
VNS