Nguyen Tri Thuc, director of the Cho Ray Hospital and HCM City COVID-19 Rehabilitation Hospital, has outlined a coronavirus treatment strategy to help limit the development of serious symptoms and reduce pressure on medical facilities.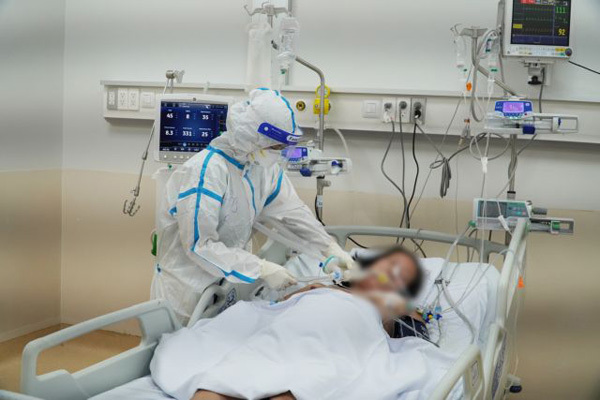 A medical worker takes care of a serious coronavirus patient at HCM City COVID-19 Rehabilitation Hospital. — Photo courtesy of the hospital
The strategy consists of four levels of treatment, and is based on the response used during the recent outbreak of COVID-19 in Bac Giang Province. To avoid cases rising rapidly and reduce pressure on medical staff, doctors will intervene early, before the onset of more serious conditions associated with COVID-19.
During the current coronavirus wave in HCM City, the daily number of new cases has been in the thousands. This has led to a 'four-level' treatment model being adopted at the HCM City COVID-19 Rehabilitation Hospital, located at HCM City Oncology Hospital No 2 in District 9, Thu Duc City.
The hospital is designed according to four floors, in which the first floor treats asymptomatic patients, the second floor symptomatic patients, the third floor patients with comorbidities, and the fourth floor critical patients.
The hospital started the strategy on July 14, with main medical staff of the hospital assigned from Cho Ray Hospital.
The addition of the fourth floor at the hospital is considered by experts to be a timely and appropriate step.
Director Thuc said the strategy helped optimise human resources, material resources and equipment to focus on treating severe and critical cases to increase the possibility of saving lives.
According to the new strategy, four resuscitation specialists from Cho Ray Hospital will directly work on the second floor at four hospitals: Thu Duc General Hospital, Cu Chi Hospital, Binh Chanh Hospital and Can Gio Hospital.
The doctors will monitor and evaluate the condition of patients. If patients show signs of serious change, they will be quickly consulted online, assessed and immediately transferred to the appropriate treatment floor.
"An online consultation system and a hotline system were also set up at HCM City COVID-19 Rehabilitation Hospital, led by experienced doctors in the specialty," said Thuc.
They include Dr. Tran Thanh Linh from Cho Ray Hospital, Dr. Nguyen Hoang Hai from Gia Dinh People's Hospital and Dr. Do Quoc Huy from 115 People's Hospital.
He added that for patients with signs of severe change, if they are given active high-flow oxygen in time, about 70 per cent would have milder symptoms. Early detection accordingly plays a very important role in preventing patients from developing more serious symptoms.
Thuc said that besides early intervention, the hospital had established a patient coordination team to work with other units in the coronavirus treatment system to have appropriate exchange, consultation and preparation in the process of transferring patients between hospitals.
This will help limit the risk of the patient becoming seriously ill during transfer. The receiving hospital will also take the initiative in preparing space, equipment and infection control procedures to minimise the risk of infection from patients to medical staff.
Le Anh Tuan, deputy director of the hospital, said that it would have 340 doctors, 1,050 nurses and a support force of about 500 staff.
"The Ministry of Health will send more doctors from central hospitals to help us, because the hospital is now treating all severe and critical cases in the south, not only HCM City," he said.
The HCM City Rehabilitation Hospital has 1,000 beds including 100 intensive care beds, with a central compressed air system - an indispensable infrastructure requirement to deploy ventilators for critically-ill patients.
The MoH has established a southern field warehouse for medical equipment. Thirty high-function ventilators, 100 electric pumps and monitoring equipment have been transferred from the field warehouse to HCM City COVID-19 Rehabilitation Hospital.

Medical forces from Cho Ray Hospital support other hospitals in COVID-19 treatment
HCM CITY — Support teams from Cho Ray Hospital have been deployed to support COVID-19 treatment at 19 different field hospitals in HCM City.
The teams include 76 medical staff, including 30 doctors and 46 nurses.
Forty-six of them, including 20 doctors and 26 nurses, will work at Cu Chi Hospital.
The remaining teams will assist at Binh Chanh Hospital.
The doctors and nurses are among 181 medical staff supporting treatment at different hospitals in HCM City under the direction of the Ministry of Health and the HCM City Department of Health.
On July 9, a support team with 10 doctors and 10 nurses from Cho Ray Hospital were sent to Can Gio Hospital.
The remaining teams will continue to provide support at Thu Duc Hospital and a COVID-19 field hospital at Thuan Kieu Plaza.
Le Thanh Khanh Phong, a doctor of the Heart Rehabilitation Ward under Cho Ray Hospital, said after receiving the assignment from the health sector's leaders, he and his colleagues quickly prepared for duty.
"The hospital gave us all necessary equipment, including face masks and protective clothes. It will be a long and challenging struggle, but all of us have good spirits and will try our hardest to fight the pandemic," he said.
The hospitals have many critical patients, but Phong and his colleagues will strive with professional knowledge to cure them.
Truong Thi Dieu Ky, a nurse from the Urology Ward, said she volunteered and was very eager to lend a hand to the work.
"We encourage each other to keep healthy, so we can take care of the patients," she said.
 Source: Vietnam News

Prime Minister Pham Minh Chinh has asked seven ministries to establish special working groups to support HCM City and southern provinces in their fight against the COVID-19 outbreak.

Ho Chi Minh City, Vietnam's current biggest COVID-19 outbreak hot spot, is on the right track in pandemic prevention and control after two days of social distancing imposed in the entire city.