The Ministry of Health allows provinces to treat Covid-19 patients (F0) who have no symptoms, a low viral load, and no underlying diseases at home, and provides them with free medicines.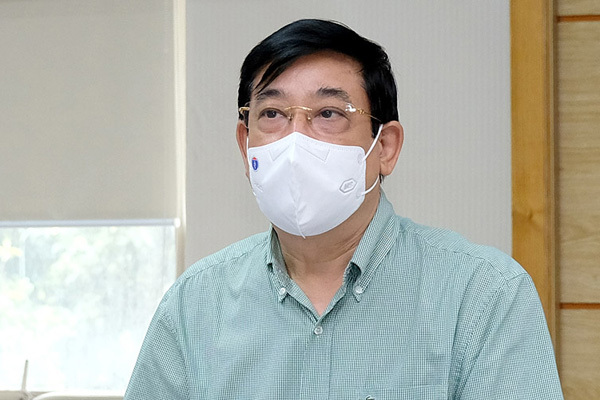 Dr. Luong Ngoc Khue, Director of the Department of Medical Examination and Treatment, Ministry of Health. Photo: Tran Minh
Dr. Luong Ngoc Khue, Director of the Department of Medical Examination and Treatment, Ministry of Health, said that the 4th wave is complicated, with the number of new infection cases and deaths increasing rapidly. Epidemiological analysis shows that about 80% of cases have no symptoms and mild symptoms, and the remaining 20% ​​are those with moderate symptoms. Of these, 5% become severe and 0.5- 1% critical.
To adapt to the new situation, the Ministry of Health has updated new treatment strategies, adding many drugs to the regimen.
Previously, when the number of patients was small, the treatment of Covid-19 patients was divided into 3 levels: severe cases were treated at central hospitals, moderate cases at provincial hospitals and mild cases at district hospitals. In the current period, the Ministry of Health has built a new 'treatment tower' to reduce the mortality rate to the lowest level.
On August 13, the Ministry of Health asked all hospitals nationwide, public and private, to prepare at least 40% of hospital beds for Covid-19 patients in case the epidemic spreads widely, in parallel to the treatment of other common diseases.
With the home treatment policy for Covid-19 patients, after a trial period in Ho Chi Minh City and based on international experience, the Ministry of Health believes that F0 cases can be treated at home with a certain condition. At that time, each family becomes a medical room. The Ministry is developing detailed instructions, considering this as the lowest floor in the 3-storey treatment tower.
To expand this model, the Ministry of Health will strengthen the consultation system for patients through telephone and applications such as Zoom, Zalo, Viber and others. 
Particularly, the Ministry of Health will give each family with F0s free medicines such as antivirals, immunity boosters, and health supplements. Patients will also receive remote support and advice from grassroots medical staff, family doctors, and volunteer doctors.
However, Prof. Khue emphasized that home treatment should only be applied for those with necessary conditions to avoid infection to family members. 
To improve the treatment capacity for critically ill patients, the Ministry of Health will increase the number of intensive care centers from 12 to 30 to ensure that every 2-3 provinces have one center of this kind, with good doctors, modern machines, and the highest techniques.
Thuy Hanh

Minister of Health Nguyen Thanh Long yesterday emphasised the strategy of reducing treatment workload and minimising deaths from COVID-19 at an online training conference on management, treatment and care of COVID-19 patients and safe vaccination.

Minister of Health Nguyen Thanh Long suggested localities adopt three-tiered COVID-19 treatment model to minimise fatality rate during a video teleconference (VTC) on August 13 morning.