Doctor Nguyen Van Duong breathed a sigh of relief when he completed the software to track COVID-19 patients' treatment at the Bac Ninh Field Hospital No1 in Tien Du District in northern Bac Ninh Province.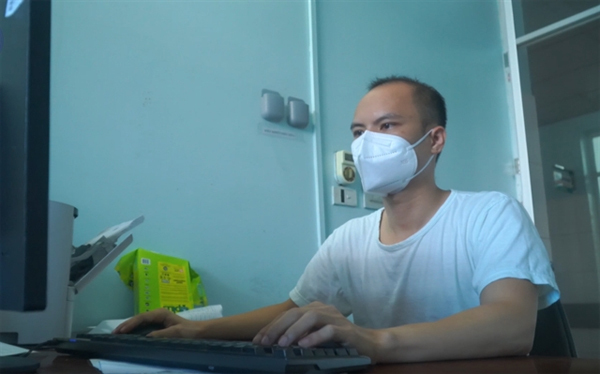 Doctor Nguyen Van Duong spends his rest time at night to create a software on tracking COVID-19 patients' treatment at the Field Hospital No1 in Tien Du District in northern Bac Ninh Province. 
Duong, deputy head of Tien Du General Hospital's Surgery Department, has been working for the Field Hospital No1 in Tien Du District, Tu Son Township after the province became the hotspot of the pandemic's outbreak on May 2.
The Field Hospital No1, with a capacity of 300 beds, received COVID-19 patients transferred from the Bac Ninh General Hospital and those from the outbreak's hotspot in Tien Du District, Tu Son Town.
He was among the health staff in charge of sampling and screening. They took samples of COVID-19 patients and screened for tests all day, and spent the rest of the time using computers for data collection and entry.
He and his colleagues had to work for hours to input data on infected patients. The number of patients had been on the rise every day, and the job had become overwhelming.
"We found that the job could hardly be finished even if we worked for 24 hours a day," he told the online newspaper Vnexpress.
On May 18, Duong was sent to work at the treatment area for COVID-19 patients.
He was determined to apply information technology to healthcare, in accordance with standards required by the provincial Centre for Disease Control.
At night, he studied to create a software to record patients' data during their treatment at the hospital to minimise errors and save time for medical staff.
"I wanted to create the software as a simple tool so that everyone can use it," he said.
He managed to create one after only 18 hours.
The doctor said the software could automatically remember important and accurate information such as the name and age of the sampled person and eliminate redundant steps such as capitalising the first letter, spacing, alignment, etc.
"When entering data manually, medical staff have to use a lot of redundant steps such as the enter key or a mouse click. This is time-wasting," he said.
"With the software, you just need a few simple steps or to type a few letters in the name of patients and you'll have all the information you need to find."
The software can also help create pooling codes and solve errors when creating patient codes.
A patient has to give testing samples every day during their treatment at the hospital. The doctor has created a new statistics tool to separately record every patient's testing information to reduce working time and improve patient management.
"Doctors only need to do a simple step so the table automatically filters those who need to take samples into a list without having to look for each result again. This causes no errors," said Duong.
"Any task that can be simplified should be simplified," he said.
Dr Le Viet An, deputy director of the No1 Field Hospital, said that the software was effectively applied at the hospital as it simplified the data collection and entry.
Duong said he has been interested in information technology for a long time. He even considered enrolling at the University of Science and Technology when he took the university entrance exam years ago.
He has never given up his hobby and uses information technology in his work.
Living and working in the quarantine area, Duong said he spent his little free time between 8pm to 2am of the next day to improve the software.
"This helps me relieve homesickness," he said.
Source: Vietnam News

Dr Nguyen Trung Cap and his colleagues at the National Hospital for Tropical Diseases in Hanoi shaved their heads during their long stay at the hospital fighting COVID-19.

Happy and relieved. That's how Dr Pham Ngoc Thach, director of the Hanoi-based National Hospital of Tropical Diseases, feels after three months on the frontline battling in the war against COVID-19.