Outbreaks of African swine fever have been discovered in 62 provinces and cities across the nation as of July 9, forcing a total of 2.9 million pigs to be culled.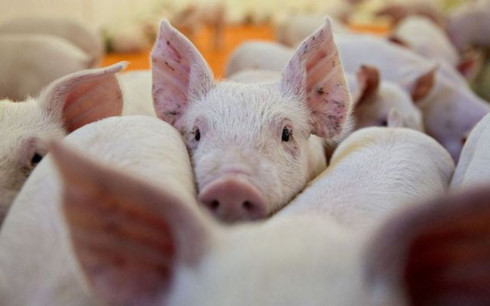 Ảnh:
The Giong Trom district's People's Committee in Ben Tre province declared an outbreak of African swine fever (ASF) on July 9 after 209 pigs was discovered to have the virus in hamlet 8 of Tan Loi Thanh commune. As a result, all of the livestock were culled.
In addition, an outbreak of ASF involving 87 pigs was also detected in Thu So hamlet, Thanh Ngai commune, Mo Cay Bac district, in Ben Tre province. Mo Cay Bac district is a major pig-raising area within the province and contains a total of 166,000 pigs.
To date, three ASF outbreaks have been discovered throughout the province, resulting in 350 pigs being culled.
Vo Thin, Vice chairman of Son Tay district's People's Committee in Quang Ngai province, reported that 20 pigs owned by a household in Mang Ta Be village in Son Bua commune had been culled after testing positive for the ASF virus.
A total of four ASF outbreaks have been reported in Quang Ngai province. The virus has been detected in Binh Thanh commune of Binh Son district, Nghia Ky commune of Tu Nghia district, Tra Thuy commune of Tra Bong district, and Son Bua commune of Son Tay district.
In order to cope with the effects of ASF, the Quang Ngai provincial People's Committee has requested that the People's Committees at grassroots levels assess damage caused by the epidemic.
Furthermore, they are actively encouraging the use of local budget reserves and other lawful financial sources in a bid to prevent and combat the further spread of the ASF epidemic in addition to supporting livestock owners who have been forced to cull their own pigs.
Elsewhere, Tay Ninh province has also detected pigs which have been showing symptoms of the ASF epidemic in two households in the border communes of Phuoc Vinh and Hoa Thach.
Provincial leaders have said that aside from disinfecting pig farms, the locality has been working to set up quarantine checkpoints to try and prevent the further spread of ASF.
The province is also strictly monitoring the development of the ASF virus and strengthening prevention activities in border areas in the hope of stamping out the epidemic. VOV
A vaccine against African swine fever (AFS) virus by the Vietnam Academy of Agricultural Sciences (VAAS) has produced initial positive outcomes on experimental scale.

Outbreaks of African swine fever (ASF) were reported in 60 provinces and cities across the country as of June 24, according to the Ministry of Agriculture and Rural Development's Department of Animal Health.