The Vietnam General Federation of Labor on October 7 released a draft amended labor code, presenting proposals for retirement ages, Thanh Nien newspaper reported.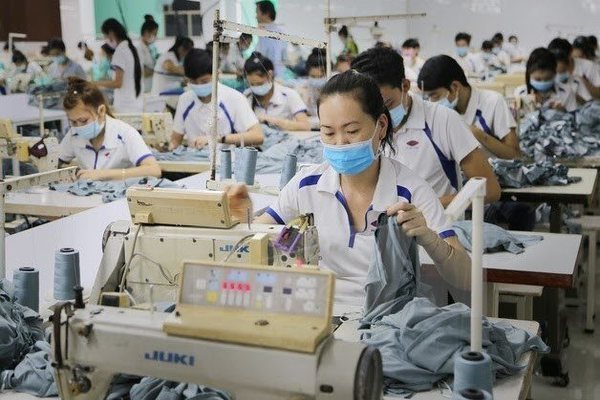 Employees work at an apparel firm in this file photo. The Vietnam General Federation of Labor has proposed the retirement age for female laborers should be 58
The federation said that the retirement age increase should be divided into groups. All civil servants should be subject to the increase, while the majority of public servants should face the retirement age hike. A small proportion of laborers should be subject to the retirement age extension.
The retirement age for female laborers should be 58, according to the federation.
The trend of raising retirement ages is emerging in many countries with a labor shortage, the federation said, adding that meanwhile, Vietnam is currently in a golden population period, with rates of unemployment at 2% per year. Each year, the country has some 1.2 million people joining the labor market.
Given Vietnam's aging population, the retirement age upward adjustment should be weighed carefully to ensure enough jobs for young laborers and safeguard laborers' health and retirement needs.
Many firms tend to terminate labor contracts with workers aged 35 to 45 as old age affects laborers' health, skills and agility. Apart from this, they must pay high salaries for high seniority, according to the federation.
Although the average life expectancy of the Vietnamese is rising, their health is not good. The elderly catch three diseases per person on average. Women, once facing serious diseases and illness, can live on for 11 years on average, while men can live on only eight years.
Meanwhile, the working environment and labor hygiene and safety have been improved slowly, the federation stated.
The federation suggested that the decision on the retirement age increase should be based on subjects and job types.
It is necessary to carefully consider the increase for subjects including workers and direct laborers in the production and service sectors and those performing special jobs such as kindergarten and primary-school teachers and people active in the art sector.
Laborers may be allowed to take an early retirement, at a maximum of 10 years earlier than the usual retirement age, if they have health problems or have to work in a noxious environment, according to the federation's proposal. SGT
 

People often see rescue workers as young and strong men, because they often work in perilous situations. Few believe that someone can rush into danger when they enter retirement age.

The 14th National Assembly's 7th meeting session ended last month with the last day reserved for discussing the draft amended Labour Code, which included a proposal to increase the retirement age that received a lot of public attention.