On September 26, 2021, a shipment of a total of 2.6 million doses of AstraZeneca's COVID-19 vaccine arrived in Ho Chi Minh City. This is another contribution from Germany towards the Vietnamese vaccination campaign.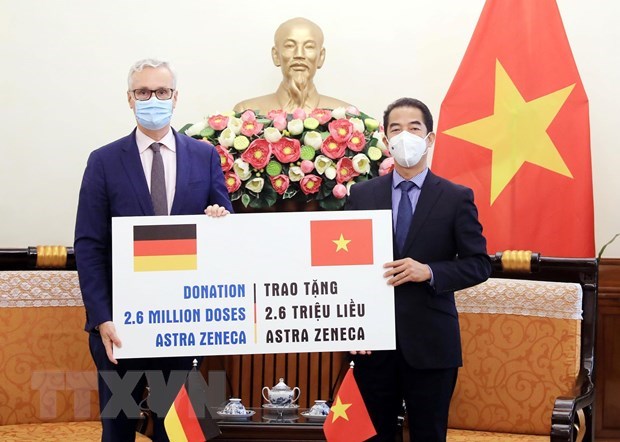 Deputy Minister of Foreign Affairs To Anh Dung (R) receives a token of the vaccine from German Ambassador to Vietnam Guido Hildner.
The vaccine donation originates from German stockpiles and follows an offer made by German Chancellor Dr. Angela Merkel to Vietnamese Prime Minister Pham Minh Chinh.
At a ceremony in the Vietnamese Ministry of Foreign Affairs on September 27 to honor this vaccine delivery, German Ambassador to Vietnam, Dr. Guido Hildner, in the presence of Vietnamese Deputy Foreign Minister To Anh Dung and representatives of the Ministry of Health stated:
"This is already the second delivery of vaccines from Germany within two weeks. Together with the COVAX shipment on 16 September, Germany's support to Vietnam now totals 3.45 million doses of vaccine. This support is an expression of our solidarity with the people of Vietnam. It also underscores our commitment to the Strategic Partnership with Vietnam, whose 10th anniversary we are celebrating this year. Germany stands with Vietnam in fighting and overcoming the COVID-19 pandemic."
Beyond vaccine deliveries, Vietnam and Germany are also working closely together to fight the pandemic. For example, the Vietnamese government handed over more than 100,000 masks to Germany in spring 2020. In summer 2021, several German federal states provided Vietnam with a total of 1 million rapid antigen tests, as well as masks, full-body protection suits and special refrigerators.
Development cooperation between Germany and Vietnam is also contributing to overcoming the COVID-19 pandemic. Up to 104 million euros will be used to implement ongoing and future activities in the areas of technical and vocational training, pandemic prevention, One Health, Green Recovery, social security and digitalization. These also include the establishment of a center for pandemic prevention together with the Vietnamese Ministry of Health and the creation of advisory services to combat illegal wildlife trade.
In May 2021, the German Academic Exchange Service (DAAD) established one of four new global centers for health and pandemic prevention in Vietnam aiming at preventing infectious diseases and helping treat them
Le Ha

A delivery of 852,480 AstraZeneca COVID-19 vaccine doses has arrived in Hanoi on September 16. This is a contribution from Germany towards the Vietnamese vaccination campaign.

The German Government has decided to offer Vietnam 2.5 million doses of the Astra Zeneca COVID-19 vaccine, as informed by the Ministry of Foreign Affairs on September 4.