A new Buddhism-themed stamp and calendar has just been released to celebrate the Vesak event held in the northern province of Ha Nam.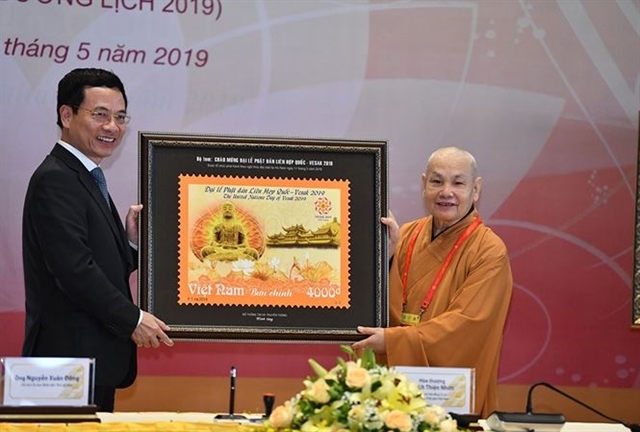 Minister of Information and Communications presents the new stamp to a representative of the Vietam Buddhist Sangha on May 11.
The stamp was co-designed by the Vesak organising board, the Ministry of Information and Communications and Vietnam Post and Post Stamp Ltd Company.
The stamp features a solemn Buddha statue with the background of a Bodhi leaf as designed in Lý dynasty (1010-1225). The image of Tam Chúc Pagoda, which hosted the Vesak event 2019, is also printed with the image of a dragon from the Lý Dynasty. The background also features lotus and clouds representing peace between earth and heaven.
The stamp will cost VNĐ4,000 (US$0.16).
The calendar is decorated with the Gem Tower inside Tam Chúc Pagoda complex. The tower is located on the peak of Thất Tinh Mountain at the site.
The calendar will cost VNĐ15,000.
The collection was designed by painter Phạm Trung Hà from the VN Post. The stamp collection will be in circulation between May 11, 2019 and December 31, 2020.
A silver coin to celebrate Vesak Day has also been issued.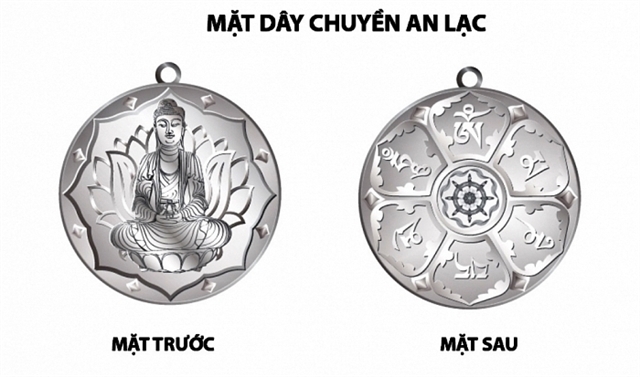 Vesak-themed coin. Photo Vesak Organising Board
The coin, which measures 32mm in diameter and weighs 13 grams, features a Buddha statue on the background of a lotus. The other side of the coin has the image of Chakra, lotus and traditional Vietnamese bronze drum, which represents Buddhism.
A silver charm with decorative patterns like the coin, which measures 26mm in diameter and weighs 7.5 grams is also included in the gift collection.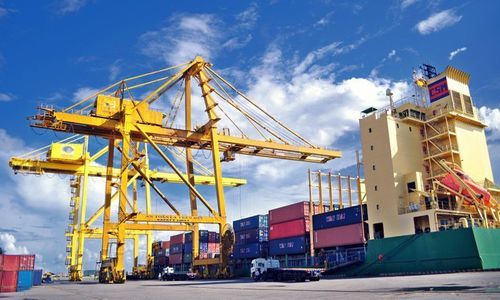 Vesak-themed charm. Photo Vesak Organising Board
"The collection of the silver coin and charm will be a meaningful gift bringing peace, health and prosperity to the owners," said painter Đoàn Xuân Phong, who is responsible for designing the gift set.
People can get the stamp at three places: Stamp Company office, 14 Trần Hưng Đạo, Phan Chu Trinh Ward, Hoàn Kiếm District, Hà Nội; Stamp Company Branch Office, 18 Đinh Tiên Hoàng, District 1, Hồ Chí Minh City; and Stall No 94 at Buddhism Culture Products Fair, Buddhism Culture Centre, Tam Chúc Pagoda, Hà Nam Province. — VNS