With a host of high-income nations opening their doors to Vietnamese guest workers in recent times, this marks a golden opportunity for local labourers to secure a quality job and enjoy attractive incomes.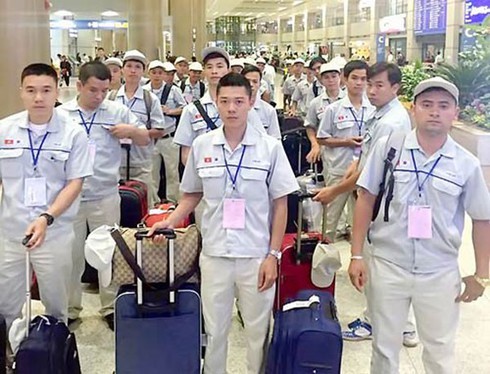 Despite these new chances, a tricky issue remains how the country can meet the demands of employers in the new markets.
This question was raised by delegates during a recent conference held by the Overseas Labour Management Department under the Ministry of Labour, Invalids and Social Affairs and the Labour and Society Magazine.
According to Prof. Dr. Nguyen Canh Toan of Hanoi Thang Long University, new markets represent a golden opportunity for local workers to obtain good jobs and boost their incomes. He also put questions surrounding the preparations that Vietnamese labourers undertake to meet the requirements of employers in these growing markets.
As present, skilled workers make up between 20 per cent to 30 per cent of the labour market in high-income countries, while migrant workers usually can only gain employment in low-income markets.
After deducing living costs, the average income of a Vietnamese guest worker ranges between VND3 million and VND4 million per month in low-income markets such as Malaysia. This increases to between VND7 million and VND12 million in average income markets such as the Middle East and Eastern Europe, and between VND15 million and VND20 million in high-income markets such as Japan, the Republic of Korea, and Taiwan.
Although the number of migrant workers abroad has increased rapidly in recent years, the workforce's overall quality remains low in comparison with that of regional peers.
Prof. Dr. Toan pointed out that Vietnamese candidates score an average of 5.78 on the IELTS test, behind Malaysia with 6.64 points, the Philippines with 6.53 points, and even Indonesia with 5.79 points.
Nguyen Ngoc Quynh, Vice Chairman of the Vietnam Labour Export Association, supports this viewpoint, adding that Vietnamese workers have limitations when it comes to foreign language proficiency, in addition to poor discipline coupled with a lack of soft skills.
A number of employers note that despite Vietnamese labourers being hardworking, many have not had to work in jobs with high standards of professionalism before.
Quynh said this leads to businesses having to spend more time training Vietnamese staff members in comparison with workers from other nations, adding that this additional training brings about practical results.
An example of this can be seen in the Japanese market, which requires that workers receive training before being sent abroad, while guest workers must maintain good discipline and be quick to adapt themselves to their working environment.
Nguyen Gia Liem, deputy director general of the Department of Overseas Labour Management, claimed that many businesses encounter difficulties in recruiting a quality workforce. When firms are required to recruit workers over a short-period of time, enterprises usually struggle to find enough labourers with sufficient quality.
The deputy director general added that regulations which exist on recruiting labourers must be revised to add the etiquettes of businesses, noting that  businesses will be able to enhance connectivity when setting up vocational training centres.
This addition will serve to improve the vocational skills of labourers and foreign language proficiency before they go abroad to work, whilst also helping local workers meet the requirements of foreign labour markets.
Most markets require high levels of discipline coupled with employable skills, if labourers are able to meet these then they can be offered attractive incomes in a good working environment. As a result, businesses are being urged to improve the quality of their workers who are eligible to work in foreign labour markets with good incentives.
Prof. Dr. Toan emphasised that Vietnamese guest workers abroad bring in approximately US$3 million in overseas remittance each year, adding that if businesses enhance the quality of labourers and send them to developed markets, the level of remittance will grow higher.
According to deputy minister of Labour, Invalids and Social Affairs Nguyen Thi Ha, Vietnam has sent more than one million labourers abroad between 2006 and the present. 
Along with quantity, the quality of labourers going abroad has been improved in recent years across a wide range of sectors, including nursing and practitioners, in addition to workers in the fields of agriculture, aquaculture, and high-skilled workers.
Deputy minister Ha explained that the country's major labour markets continue to increase, especially in East Asia, the Middle East, Malaysia, and a number of European countries, which have shown positive signs of growth for Vietnamese workers in recent years.
Domestic labourers going to developing markets received a boost during the first half of the year following the signing of several bilateral agreements.
June and July saw the Ministry of Labour, Invalids and Social Affairs sign a number of agreements in the field of labour exports, most notably a memorandum of understanding for workers who achieve Japan's certificate of Skills Evaluation.
Other booming markets include Brunei, Sinagpore, and Saudi Arabia, while high-income countries such as Australia, the United States, Canada, Finland, and Italy are also developing into popular destinations for local workers. VOV

Policymakers amending the Labor Code want to lift the retirement age but a survey has found that 50.7 percent of polled workers oppose the idea.

An agreement to allow Vietnamese workers to work in Japan for five years was signed on Friday in Hanoi.