Government inspectors will review the use of health insurance fund, the procurement of medical equipment and consumables and bidding for supplying medicines.
Bids for medicine increase as new policy takes effect
Abuse of health insurance fund continues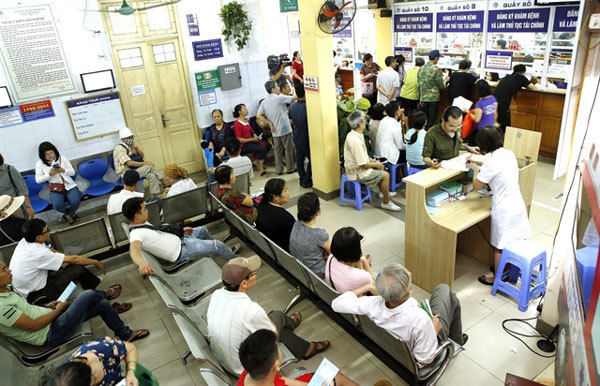 Patients wait to register for examination in Saint Paul Hospital in Hanoi. — VNA/VNS Photo Duong Ngoc
The inspeciton will be conducted at the Ministry of Health, Viet Nam Social Insurance and local health departments.
The move was announced in a decision issued on September 19 by the Government Inspectorate of Viet Nam. The inspection is scheduled to last for 80 days from the date the decision was announced, excluding weekends and holidays.
Speaking at a meeting to announce the decision in Hanoi on Monday, deputy inspector general Tran Ngoc Liem said the inspection was part of the Government Inspectorate's plan for this year, with the three fields to be inspected areas of public concern.
Following the decision, all issues related to the three fields, occurring between January 1, 2014 and December 31, 2018 would be inspected.
The inspection team consists of 16 members, led by Vu Duc Tam, a senior inspector, deputy head of the inspectorate's Department for sectoral Economic Inspection.
The supervisory team has four members, led by Hoang Duc Quynh, head of the inspectorate's Department for Post-inspection Supervision, Verification and Settlement.
Liem said it was a large-scale inspection, scrutinising three complex fields.
The inspection aims to find shortcomings as well as inadequate mechanisms and policies so they can be amended, especially, policies related to patients, he said.
Deputy Minister of Health Nguyen Truong Son ordered agencies to provide related documents per the requests of the inspection team.
The inspections come with the peak of dengue fever season approaching, so Son asked the inspection team not to affect the hospitals' activities.
According to Viet Nam Social Security, Vietnam has 83.4 million health insurance cardholders, accounting for 88.1 per cent of its population.
By the end of this year's first quarter, health insurance cardholders registered more than 41.7 million doctor's visits, up 1.47 million visits compared to the same period last year.
Vietnam expects to have 95 per cent of its population join health insurance by 2025. VNS